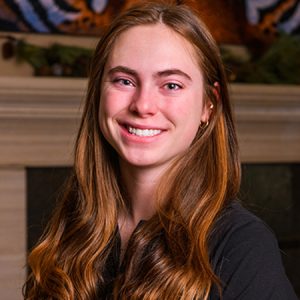 Madeline Lee is from Dripping Springs, Texas. She is pursuing public health with an interest in environmental health. In the future, Madeline plans on working as a disaster relief manager in a coastal region.
"Public health is a critical part of keeping our nation safe from diseases and disasters," Madeline says. "With the opportunities offered for my field here at Mizzou, I am confident that I will be prepared to join the workforce after graduating. Also, Mizzou offers an amazing master's program for public health majors."
In addition to being a student ambassador, Madeline has been involved in campus organizations such as Mizzou Alternative Breaks and Marching Mizzou, for which she plays piccolo. In her free time, Madeline enjoys hiking at Missouri's state parks and trying new restaurants with friends.
If you could give one piece of advice to incoming freshmen, what would it be?
The advice I would stress the most to incoming freshmen is to have an open mind. It can be difficult to go into a new experience without any preconceived judgements, but try everything once. Staying within your comfort zone shuts off potential opportunities.
What is your favorite spot to study on campus?
I've scouted all throughout campus, and my top spot for studying would have to be the CSI on the second floor of the student center. There is hardly anyone in there usually, so it is very quiet. However, the best part is being able to sprint downstairs to get a smoothie when you get hungry.
What is your favorite place on campus?
Easily, my favorite place on campus is Faurot Field. Going to the football games with Marching Mizzou was one of the best parts of the fall semester. The amount of energy in the stands is insane.
What residence hall did you live in?
For my freshman year, I am living in the Mark Twain Residence Hall. Many of my classmates live there as well, since it is one of the Honors dorms.
What made you choose Mizzou?
In high school, I knew I wanted to go to a university out of state, but I wasn't sure where. In December, I was able to fly up from Texas to tour campus where I immediately got that "yes, this is the place" feeling. Although it is cliché to say, I truly felt at home here.