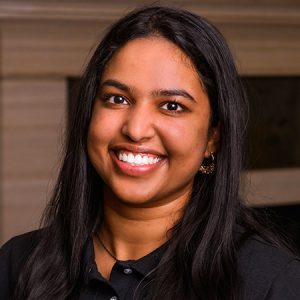 Nisha Ravikumar is a health science major on the pre-med track, from St. Louis. She also is a student in the Honors College. Nisha plans to go to medical school and eventually become a physician in the future
"My advice for all students is to find a balance between school, extracurriculars, and everything else in life," Nisha says. "Your mental health is very important, and you don't want to get burned out. I also suggest getting as involved as possible. Mizzou has so much to offer, and you shouldn't miss out on anything just because you are afraid to branch out. Also, getting involved helps you make friends and doing different activities with friends is what makes you enjoy your college experience!"
In addition to serving on the College of Health Sciences Student Ambassador Leadership Team, Nisha is a sorority member, does research at the University Hospital, a member of Pre-Med Society, and a member of the South Asian Student Association.
What made you choose Mizzou?
I chose Mizzou because I loved how big the University is. There are around 30,000 students who attend Mizzou which means that there are so many people here who have different interests. I am also from Missouri and knew that I wanted to stay close to home at least for my first four years.
What should make students choose Mizzou?
Students should choose Mizzou because of all the opportunities Mizzou has to offer. There are 100's of clubs, so there is a way for everyone to get involved. Also, Mizzou has great professors and TA's who are there for you and help you succeed.
What has been your favorite Mizzou memory?
My favorite Mizzou memory is definitely Homecoming. There are so many traditions that Mizzou has such as the parade, football games, etc., and it was so cool to be a part of all of that.
What's your favorite Mizzou club/organization?
My favorite organization is Greek Life. I feel that I have made so many genuine connections through my sorority and I really enjoy all the activities we do.
Where is your favorite place to study on campus?
My favorite place to study on campus is the Ellis Library. For me, having other people studying around me motivates me to keep studying and working hard.