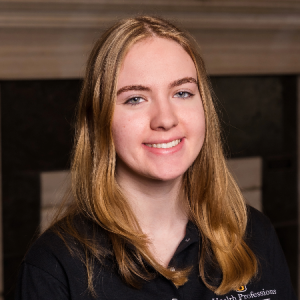 Catherine Patti is from Mount Prospect, Illinois. She is a Health Sciences major with an emphasis in Health and Wellness. After college, she hopes to attend graduate school so she can become an Occupational Therapist. 
"I chose Mizzou because of the sense of community I felt on campus, the many traditions Mizzou has, and the location of campus in a small college town," she says. "I also really liked the opportunities for Occupational Therapy students here such as the graduate school and the TigerOT Clinic."
Catherine is a member of Sigma Eta Rho, a professional fraternity for students in the College of Health Sciences. She is also a member of the Pre Occupational Therapy Student Association. This organization helps her enhance her OT skills through community volunteer opportunities.
Why did you want to pursue a career in healthcare?
I wanted to pursue a career in healthcare after watching therapists help my brother reach his full potential. He was born with down syndrome and watching them help my brother inspired me to pursue a career in this field. A good therapist really makes a difference in a person's life and I want to be able to make a difference and help others just like the therapists I knew growing up helped my brother.
What is your best advice for incoming Mizzou CHS students?
Don't be afraid to ask for help! Our professors are here to help us learn and succeed in their classes. Use the opportunities offered such as office hours to help you succeed and perform your best!
What is your favorite coffee spot in Columbia?
My favorite coffee shop is Aroma Coffee House – especially when they offer the student discounts on Wednesday mornings!
If you could have dinner with any Mizzou alumni who would it be and why?
I would love to have dinner with Sheryl Crow because I would like to talk to her about her experiences at Mizzou since she is an alumna of the sorority I am a member of, Kappa Alpha Theta. I would ask her for what advice she has to offer on how to make the most of my time here as a student.