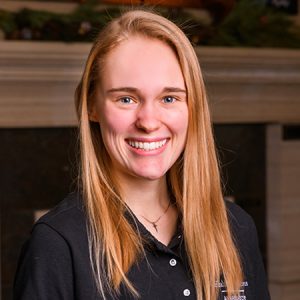 Emily Wolfe is a pre-Diagnostic Medical Ultrasound major from O'Fallon, Missouri. After graduating from Mizzou, she plans to go back to St. Louis to find a job in ultrasound near home.
"My advice for incoming students is to take time for you," Emily says. "It is crucial to do the little things for yourself so you can do the big things too!"
Along with being part of the School of Health Professions Student Ambassador team, Emily is involved in Salt Co. student ministry as well as KLIFE Columbia. She also served as a Welcome Week Leader to help incoming freshmen with the transition at the beginning of the school year.
How did you choose your major?
I chose ultrasound because I knew I wanted a career in a helping field and thought that might be in healthcare. I also knew that I did not want any job where I would be sticking or poking anyone, and ultrasound is a helping field with no poking!
Where is your favorite place to study on campus?
I love to study at the Rec or the library because they both have tall tables.
What is your favorite ice cream/coffee shop in CoMo?
Sparky's is such a fun ice cream shop AND within walking distance from campus!
What should make students choose Mizzou?
Anyone should choose Mizzou because it is so easy to make this campus about you. Each person has the opportunity to make their experience what they want it to be like.
What has been your favorite Mizzou memory?
My favorite Mizzou memory was meeting one of my now closest friends who are from Washington State. I was a Welcome Week Leader wearing my leader shirt that first week, and she asked me for directions to the SHP welcome event. The rest is history!