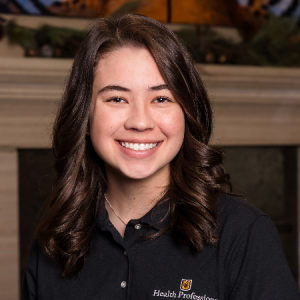 Madison Frisbie is a Health Science major with a Pre-professional emphasis, from Honolulu, Hawaii. After graduating, she plans to attend medical school. 
"I decided to pursue a career in healthcare because of my love of learning and constant innovation," she says. "Another aspect of healthcare that made me pursue a career in it is because I like helping people and making sure they are getting proper quality care."
Madison is involved in community service and campus involvement through Mizzou Greek Life. She recently joined a campus book club where she fundraises and holds book drives to donate to local schools.
What is your best advice for incoming Mizzou CHS students?
My advice to incoming Mizzou CHS students is to get involved early. My freshman year, I decided to wait to get involved so I could be more acclimated to Mizzou since I just had a big move, but being involved freshman year would have actually helped me because I am just now becoming more involved and feel like I missed out.
What made you choose Mizzou?
I chose Mizzou because they had the program I was interested in which was Health Sciences. I also fell in love with the campus and the atmosphere of the student life.
What is your favorite coffee spot in Columbia?
My current favorite coffee spot in Columbia is Shortwave! Even though I've only been there once or twice I still love the vibes and ambience.
What is your favorite Mizzou memory?
My favorite Mizzou memory would have to be the first roar with my friends. It's our way of learning the chants and some of the traditions.