News & Announcements
14 Health Sciences students awarded S.T.A.R. recognition 
---
Sept. 21, 2023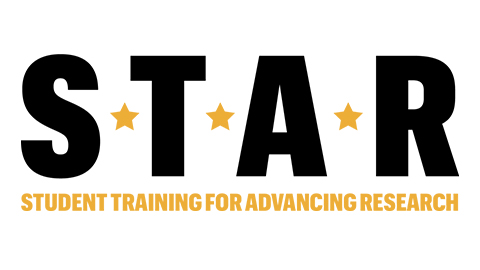 The Office of Undergraduate Research recognizes students for attending five or more workshops through the Student Training for Advancing Research (S.T.A.R.) program. These workshops prepare students from all disciplines for research by teaching them about topics ranging from resume creation to cultural competency in research.
A total of 14 students from the College of Health Sciences received their S.T.A.R. recognition in the spring. Kate Parrish, a senior in the Department of Speech, Language and Hearing Sciences who recently completed the S.T.A.R. program, said her favorite workshops included "Putting Research on Your Resume" and "How to Write an Abstract."
Parrish said she's excited to lead her first research project this semester. A new and more efficient way of collecting speech samples, called the Sugar (Sampling Utterances and Grammatical Analysis Revised) method, has been introduced to the speech world. Parrish will work to replicate studies on the method to verify their results. She said she feels more prepared to take on this project because of her experience with undergraduate research workshops.
"I didn't know very much about undergraduate research — other than the fact that I wanted to join — and even after joining, I was still unsure about some things," Parrish said. "The workshops were a really good way for me to get my foot in the door and feel more comfortable. The trainings gave me some good tips, and now I know more about what research looks like."
Students interested in attending Undergraduate Research workshops and earning their S.T.A.R. recognition can view a full list of workshops on MU Engage.
Congratulations to these CHS students who were awarded S.T.A.R. recognition:
Courtney Durben — Health Science
Julia Easley — Speech, Language and Hearing Sciences
Wendy Echeverria — Public Health
Abbigael Follis — Public Health
Grace Key — Health Science
Reagan King — Speech, Language and Hearing Sciences
Malorey Krutzsch — Speech, Language and Hearing Sciences
Ella Landers — Speech, Language and Hearing Sciences
Jadyn Lisenby — Speech, Language and Hearing Sciences
Kate Parrish —Speech, Language and Hearing Sciences
Emily Sander — Health Science
Sophie Snedden — Post-Baccalaureate
Meghan Sydow — Health Science
Anna Mae Williams —Speech, Language and Hearing Sciences