News & Announcements
21st Surgeon General of the United States Dr. Vivek H. Murthy to deliver May 2023 commencement address
---
April 4, 2023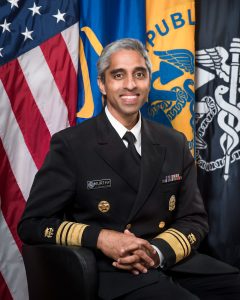 The Mizzou School of Health Professions is honored to announce that Dr. Vivek H. Murthy, the 21st Surgeon General of the United States, will be the commencement speaker at the Health Professions graduation ceremony on May 13.
Dr. Murthy, who was confirmed by the U.S. Senate in March 2021, is a renowned physician, research scientist, entrepreneur, and author. He previously served as the 19th Surgeon General under President Obama. As the Nation's Doctor, Dr. Murthy's mission is to help lay the foundation for a healthier country, relying on the best scientific information available to provide clear, consistent, and equitable guidance and resources for the public. He is also the Vice Admiral of the U.S. Public Health Service Commissioned Corps and commands a uniformed service of over 6,000 dedicated public health officers, serving the most underserved and vulnerable populations. Recently, he launched a new podcast, House Calls with Dr. Vivek Murthy, which is designed around how conversations have the power to be healing.
"We are excited to have Dr. Murthy as our commencement speaker," said Kristofer Hagglund, Dean of the School of Health Professions. "His dedication to improving health and well-being, and his ability to inspire and engage communities make him the perfect choice to address our graduates as they embark on their own careers."
The School of Health Professions graduation ceremony is open to the public and will begin at 3:30 p.m. Saturday, May 13, at Mizzou Arena.