News & Announcements
Breathing life into dreams: Respiratory therapist comforts patients of all ages
---
Nov. 14, 2023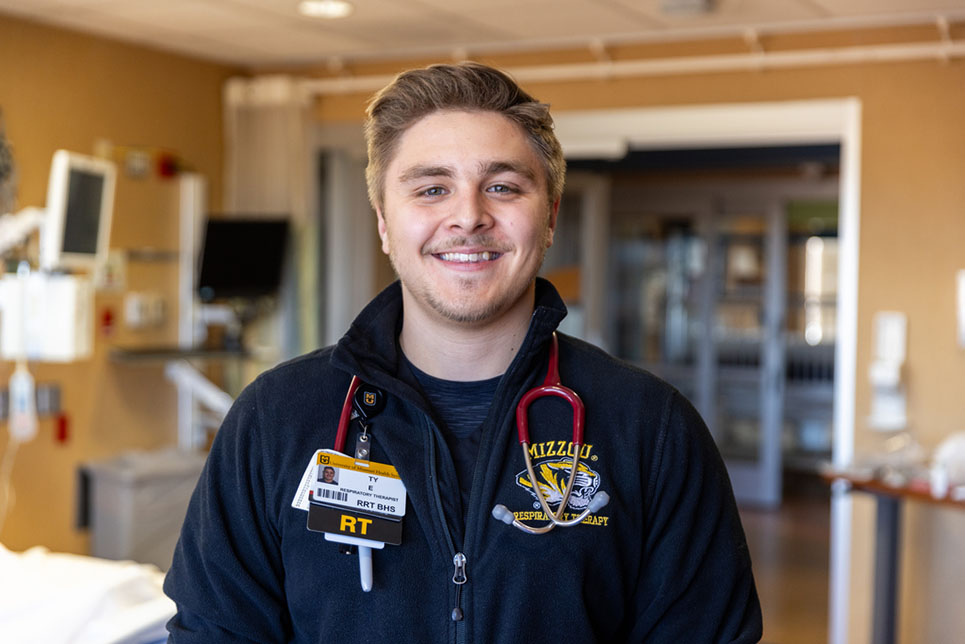 Story by Ryan Gauthier
As a teen growing up in mid-Missouri, Ty Espinosa could often be found helping his mom care for his ailing grandmother.
His grandma struggled with chronic obstructive pulmonary disease (COPD), a condition that causes airflow blockages and makes it difficult to breathe.
"She lived with us, and I would always help with her care," Espinosa said. "My mom said I'd be good in health care, but I was a teen at the time — so I didn't think much of it. But that kind of planted the seed."
Over time, Espinosa got to know a respiratory therapist who visited his grandma to check on her, ensure her equipment was working properly, and deliver new oxygen tanks. Whenever the therapist would visit the home, he said a massive smile would spread over his grandma's face.
"I knew from talking with my grandma that it can get really lonely as you age, and I saw the way she would light up when the therapist was there," he said. "That definitely inspired me at a young age that I could make such a difference in the lives of people by providing important care as well as comfort during a difficult time."
Although his grandma passed away in 2018, Espinosa carried her memories with him as he studied respiratory therapy through the University of Missouri College of Health Sciences and worked through his clinical rotations.
"I am who I am because of her," he said. "I go into every patient case a little bit more empathetic for what they're going through."
Learning along the way
After graduating from Battle High School in 2018, Espinosa enrolled at Moberly Area Community College (MACC) before eventually transferring to Mizzou. As a first-generation college student, he struggled to find guidance as he worked his way through school.
"My aunt and my uncle were in the military, and the rest of my family were businesspeople," he said. "It can be challenging because no one in your immediate circle really knows what you're going through. You don't get a lot of advice, so you really have to figure it out as you go."
Espinosa said things started clicking for him after he was accepted into the Mizzou Respiratory Therapy program. He developed close relationships with his classmates, faculty members and preceptors he met through clinicals at MU Health Care.
Jennifer Keely, Respiratory Therapy program director and associate clinical professor, said she believes the clinical model of instruction has been one of the main determinants of graduates' outstanding performance on board exams and successes later in their careers. After entering the Respiratory Therapy program, all students must complete 1,100 clinical hours before they can graduate.
"While the number of clinical hours is incredibly important, the quality of those experiences that students have at our clinical affiliates is equally so," Keely said. "The students spend so much time at MU Health Care, especially in their first year, that the respiratory therapy department is like a second home to them."
Espinosa said those connections and wealth of hands-on experience were invaluable. Although he was still a student, he said everyone at MU Health Care helped him feel like part of the team because they were so welcoming. Those connections also pushed Espinosa to believe in himself.
"Instead of typical 1-on-1 mentorship, I got to know multiple people and really get a glimpse into their lives and what they've been able to do," he said. "Seeing their accolades and everything they'd accomplished helped me see what was possible — and recognize that I'd like to get there as well."
Endless opportunities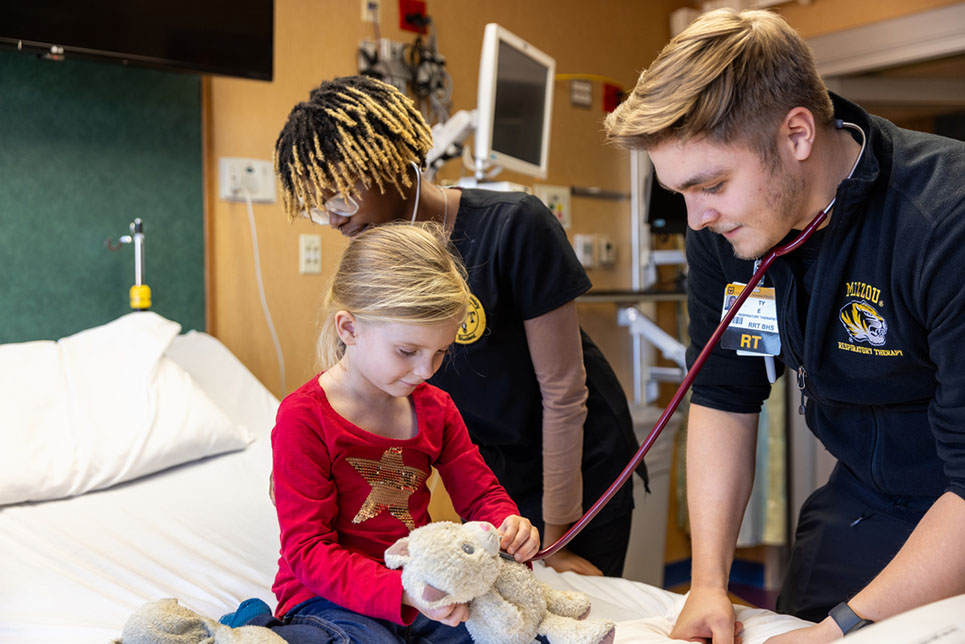 Fast forward to 2023, and Espinosa is a newly minted alum of the College of Health Sciences and a registered respiratory therapist. When it was time to find a permanent position, he knew he could find a job anywhere he wanted to live.
Respiratory therapists are in high demand, with the U.S. Bureau of Labor Statistics projecting the profession to grow by 13% from 2022 to 2032. Espinosa ultimately decided to stay closer to home — and accepted a position with MU Health Care.
"MU's Respiratory Therapy program and MU Health Care are so integrated that it was an easy bridge to cross," he said. "I felt like I was already friends with the people who were teaching me."
Espinosa currently splits his time between the neonatal ICU at Women's and Children's Hospital, the pediatric ICU and general floors, and a couple of adult floors at University Hospital. He said he never intended to specialize in pediatric respiratory therapy, but he was sold on working with young patients after experiencing some incredible turnarounds during his pediatric clinical rotation.
"To see a human who is so small make the sort of turnaround that even some adult patients don't have the reserve to come back from — that was just really cool," he said. "When we send a kid home from the pediatric ICU, it's an incredible feeling to know how they were when they got there and see how different they look when they leave."
Keely described Espinosa as a good-natured and authentic person who never let stressful environments or situations affect his demeanor toward his classmates or faculty members.
"Respiratory therapists like Ty, who have a naturally sweet disposition, are an asset to any respiratory therapy department," Keely said.
Although the bulk of his time is spent with pediatric and neonatal patients, Espinosa appreciates that he's still able to work with adult patients. That's part of the beauty of the respiratory therapy profession, he said.
"You don't have to be restricted to just one group of patients," he said. "You can kind of blend multiple professions and careers into one."
Featured in this post