News & Announcements
Family continues Nancy Toedebusch Fay's legacy of giving back
---
April 3, 2023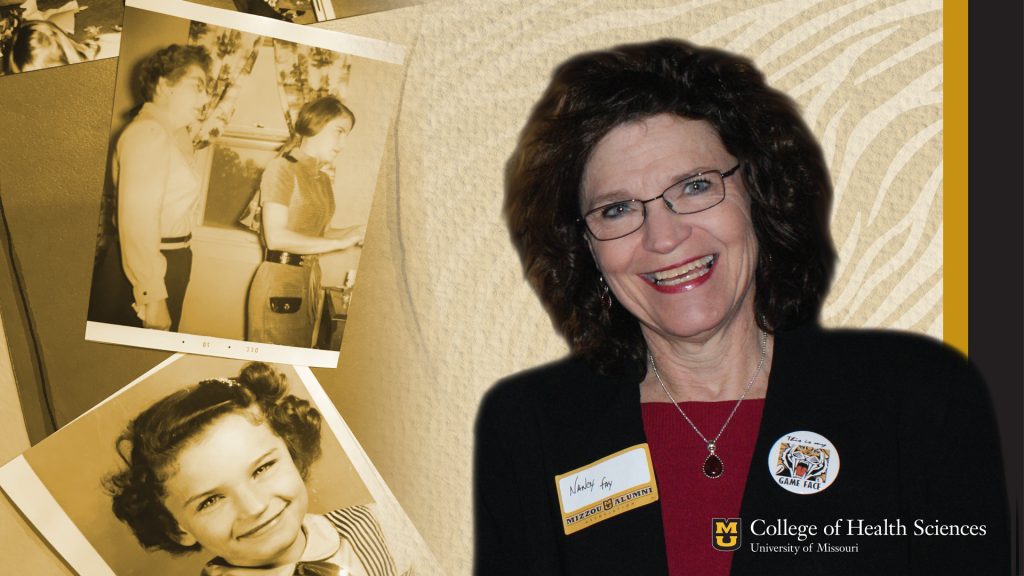 In the halls of the College of Health Sciences, there are some names that come up time and time again for their efforts to give back to the students and faculty who make CHS such a special place.
For anyone who appreciates a hot breakfast and equally warm personality, Nancy Toedebusch Fay is sure to be a familiar name.
Nancy grew up in Saint Charles County on her family farm and was a first-generation college student at the University of Missouri. Nancy graduated in 1969 with a bachelor's degree in medical technology and enjoyed a long and successful career with Boyce and Bynum Pathology Laboratories. Later in life, she became well-known throughout Columbia as a Mary Kay beauty consultant and active member of the Columbia Chamber of Commerce.
One thing that was consistent from her MU graduation through her retirement years was a passion for the College of Health Sciences.
"She was our own personal cheerleader," said Michelle Custer, director of advancement for CHS. "I met Nancy when I started my position here doing alumni relations because she was one of the most involved alumni."
Nancy always sought ways to support the college and its students, Custer said.
"She was a doer," said Elton Fay, Nancy's husband. "If she put her mind to something, she'd do it. She loved being involved."
Comfort food
In 2010, Nancy and Custer partnered to create Nancy's Breakfast: a free breakfast for CHS students during the week of finals. Nancy knew finals week was a particularly stressful and busy time within the college, and she wanted to provide students with encouragement as well as a warm breakfast.
"She always cared about the students — she wanted the students to be cared for," Custer said. "These students were stressed about studying for finals. They come to the breakfast freaking out about exams and tests, so she wanted to give them a meal to cheer them on and advocate for them."
The breakfast continues to grow and evolve every year. While it started out small with store-bought pastries and juice, Nancy's vision since its inception was to serve students a warm meal. Although Nancy died in September 2019 and was unable to see that vision become a reality, Nancy's Breakfast now includes hot food and beverages for students — thanks to the continued involvement and support of Elton and their daughter, Whitney.
This past May, Elton and Whitney participated in and served food at Nancy's Breakfast. Whitney said it was wonderful to continue her mother's support of the College of Health Sciences.
 "It was so great to see the smiles on student's faces while serving them breakfast in honor of my mom," Whitney said. "She was such an amazing advocate for the college, and she loved getting to interact with and help CHS students in any way she could. It was an honor to be able to continue her legacy of volunteerism in this small but meaningful way. I know she'd be proud at how Nancy's Breakfast continues to this day."
A lasting legacy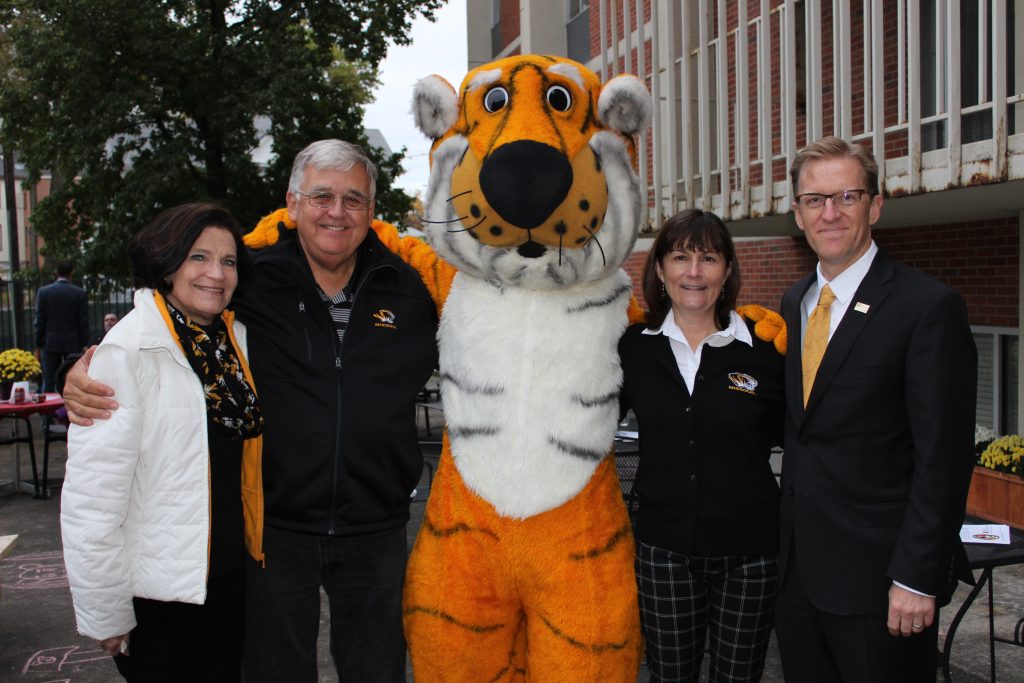 Beyond breakfast, Nancy's name lives on at CHS in many ways. Relationships were incredibly important to her, so she worked to connect students with mentors.
"She valued the mentoring part of the CHS program," Elton said. "She tried to match alumni from around this area with students who were in school."
In addition to creating these mutually beneficial mentoring relationships — many of which continue today — Nancy tried to fuel student success by establishing the Nancy Fay Endowment in 2017. This endowed fund provides scholarships for CHS students every year.
"She did so much for CHS," Custer said. "She handed out the alumni awards at our Scholarship and Awards Luncheon and attended Leaders' Day at the Mizzou Alumni Association. Anything we could have needed, she was happy to help."
And thanks to Nancy's family, she's still making a positive impact. Elton continues to expand Nancy's Breakfast and donates to other projects in the college. And soon, CHS students will be able to enjoy state-of-the-art classroom space thanks in part to Nancy's family.
Elton and Nancy's siblings — Bill Toedebusch (BS Agriculture '67, MS '69, MD '77) and Shirley Ostmann (BS Medical Technology '73) — contributed funding to help create the "Nancy Toedebusch Fay Classrooms" on the first floor of Clark Hall as part of a multimillion-dollar renovation project. These new classrooms will increase the usable classroom space within Lewis and Clark halls for CHS students, who in the past have taken most of their classes in other campus buildings.
CHS leadership is grateful for Nancy's countless contributions over the years and appreciates her family members continuing to further her legacy within the college.
"We're pleased to be expanding and renovating our space to give students a place to call home," said Dean Kristofer Hagglund. "Nancy was a tireless supporter of our students over the years, so it felt like a natural fit to continue her legacy of support by enshrining her name as part of this renovation project."
Naming opportunities available
If you are interested in supporting the College of Health Sciences and helping us improve lives while making a real difference in the world, contact Todd Pridemore at pridemoret@health.missouri.edu.