News & Announcements
From internship to full-time job: Health Science alumna finds meaning with nonclinical career
---
Oct. 26, 2022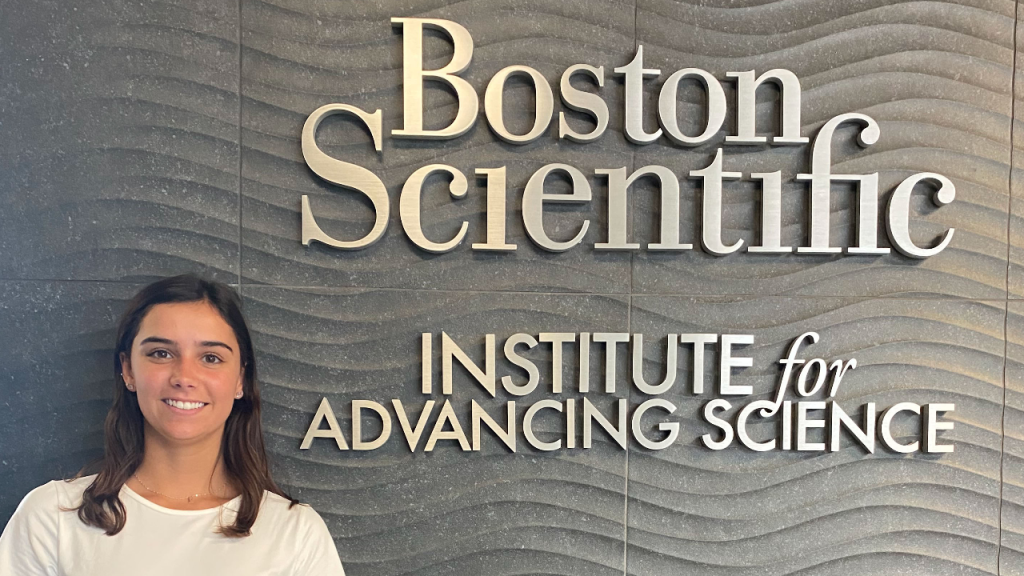 By Gracie Hedenberg
Before her internship the summer after her junior year, Elizabeth LaDriere had never heard of regulatory affairs. Now, as a full-time employee in Boston Scientific's regulatory affairs department, she says that MU prepared her perfectly for her current role.
Boston Scientific is a medical device manufacturing company, and LaDriere facilitates the federal and international approval and revision process for their devices. She specializes in interventional cardiology, which means she mostly handles revisions to devices dealing with the heart and its nearby arteries. When an engineer alters a product, they pass along their research and alteration information to LaDriere and she writes a report for the Food and Drug Administration or other regulatory organizations outside of the U.S. to explain why the product is still just as safe and effective as before
Though LaDriere's role is not clinical or patient-facing, she makes a positive impact on the lives of patients all over the world. She says she likes to take a step back and remember that she plays a role in safety and helping people live healthier lives.
"Since we're so distant from how these devices really affect a patient's life, I think it's really valuable when, as a team, we talk more about the patients who are affected," LaDriere said. "It's almost like we're giving them a second chance at life, which is what some of our devices do, and it's really, really cool."
As an intern, LaDriere got to try out what she does on a day-to-day basis as a specialist; writing to the FDA to explain the efficacy of an engineer's change. Her report was actually submitted to the FDA, and she was able to learn in a hands-on way in real time. When her internship ended, she was not ready to move on from Boston Scientific.
"A summer internship is not enough time to learn about regulatory because it is just so vast, and there are so many things that you can do within that one title, so I asked if I could continue," she said.
In August 2021, she signed a contract to continue full-time when she graduated the following May. During her senior year, she worked part-time to continue to work and learn about regulatory affairs. By July 2022, she settled into her new home in Minneapolis, Minnesota, and started her full-time position at Boston Scientific.
Long before she had ever written an FDA report or ever heard of a regulatory affairs specialist, she was learning skills she uses every day now, and skills she used as an intern. She graduated MU with a bachelor's in Health Science and a minor in business. This combination proved to be a perfect intersection of health and business to prepare her for her current role. Many of her coworkers come from primarily business or engineering backgrounds.
"The learning curve is a lot easier coming from a health background," LaDriere said. "I didn't necessarily know [anatomy] to the extent that I need to know it now, but I totally had a leg up on my peers who don't necessarily have that in their background."
Her job relies on collaboration with people from many organizations and many pathways within those organizations. Even within Boston Scientific, she listed four teams of people involved with each change or submission. Teamwork, she says, is essential to growth and function.
"In Health Science, we have so many group projects," she said. "And that is something that really translates into working a real, "big-girl" job, because you work with people every single day."
Just as she learned new skills in the classrooms of MU and in her internship, LaDriere is growing as a professional in a life-changing field and a newly graduated young adult.
"This job gave me the opportunity to move away from Missouri, which is kind of a double-edged sword; moving away is bittersweet, but it's been very important, even in these last few months, to get out of my comfort zone," LaDriere said. "It's something that has allowed me to really explore and help me figure out what I want to do for my next steps in life, and I think that's something that's valuable. Don't be scared to push your own boundaries and explore! You only have so many years to go wherever you want and explore."