News & Announcements
Interprofessional Education Day prepares students for careers with hands-on, collaborative practice
---
Sept. 7, 2022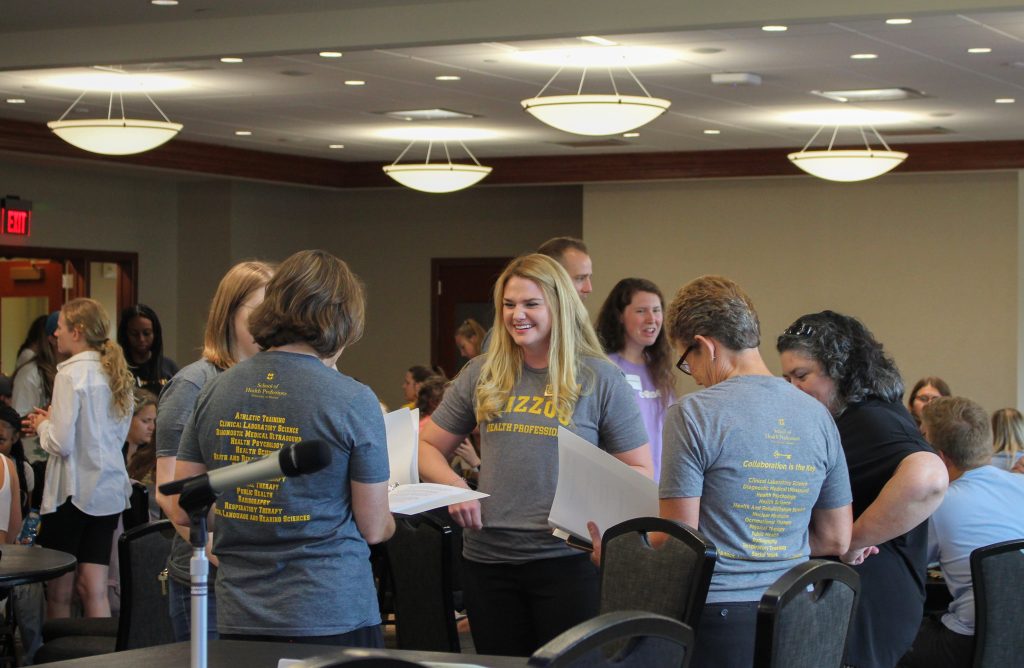 Story by Gracie Hedenberg
Interprofessional Education Day brought together a total of 300 students from clinical disciplines to collectively learn important skills in the health care field, including conflict resolution, good communication and core competencies.  
The morning portion for first-year students explored the basics of interprofessional collaboration, such as the function of equipment from different disciplines and how teams can work together to provide client-centered care, through games and simulations.
The afternoon session for second-year graduate and undergraduate clinical students included a "reader's theater" featuring clinical programs faculty and fictional scenarios to demonstrate effective communication and conflict resolution. Students also worked in groups to examine how poverty may affect client behavior and access to health care.
Savana Spitz, second-year OT student, said the poverty simulation — the tool that facilitated the discussion on how to best provide effective client care to clients experiencing poverty — can help future health care providers offer the correct care and resources to people.
"Our goal is to create activities that are accessible for students and are fun as well," Lowery said. "We know the importance of bringing students together to do some fun things and also learn; this helps them understand that each of us plays an important role, including the consumer."
Giving students a jumping-off point for professional skills from their first year at MU through experiences like IPE Day sets a foundation for productive teams, role and responsibility division, communication and client-centric values, which are the four core competencies for interprofessional collaborative practice.
"If all people are not on the same page, working towards the same goal, nothing is going to happen," Spitz said. "Especially with practices like physical therapy and occupational therapy, where there are blurred lines between the responsibilities of each, making sure that everyone knows what the goal is, and how we are going to accomplish it together, is how progress happens."
Featured in this post