News & Announcements
Local Delta Omega chapter inducts 19 new members
---
April 28, 2023
Delta Omega is a national honor society for public health that recognizes outstanding accomplishments in scholarship, research and practice. The Gamma Eta chapter at MU is one of 120 chapters in the U.S. today.
This year, the local chapter of Delta Omega is inducting 19 new members: three undergraduate public health students, one first-year MPH student (president-elect), seven second-year MPH students, six MPH alumni, one honorary inductee and one faculty inductee.
The 2023 Gamma Eta inductees include:
Payton Stitzer, BHS
BHSPH Student
Adair County, MO
Payton Stitzer will graduate with her Bachelor of Health Science in public health in May 2023. Payton was born and raised in Adair County, Missouri. Her interest in public health has been motivated by her life experiences and continues to be fueled by the experiences of those around her. Payton has learned through her studies that applying public health principles is an important way of solving problems in our communities and giving people opportunities to succeed. This is one of the reasons why she has decided to pursue a career in public health.
Payton hopes to continue her education by earning an MPH and CHES certification. While doing so, she plans to engage with organizations in her community to help plan programs and promote the health of those around her.
Wendy Echeverria, BHS
BHSPH Student
Franklin, TN
Wendy Echeverria is excited to receive her Bachelor of Health Science in public health from the University of Missouri in the spring of 2023. She looks forward to continuing her education in graduate school, where she hopes to expand her knowledge and master the skills needed to improve health outcomes in her community and beyond. She is particularly interested in improving resiliency to protect the mental and physical health of those in vulnerable communities.
Wendy currently lives in Middle Tennessee with her spouse and children. She is the proud mother of three adult sons, a 14-year-old son and an 11-year-old daughter. She delights in running, hiking, and exploring the outdoors. She also enjoys dinnertime, roller-skating and good movies with her family.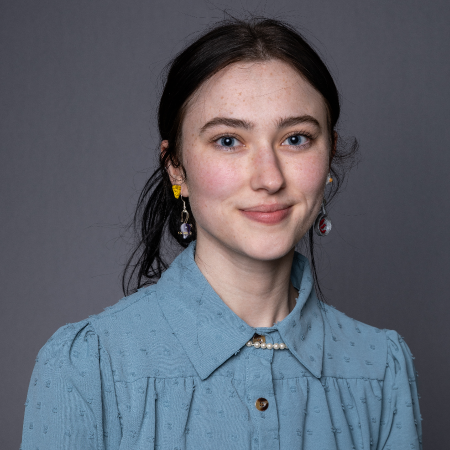 Tessa Feeney, BHS
BHSPH Student
Lincoln, NE
Tessa Feeney will graduate in May 2023 with her Bachelor of Health Science in public health, minors in art and psychology and a certificate in multicultural studies. She currently serves as an officer on the board of Well-Being Peers, a group of Mizzou students working to create a campus culture where everyone can achieve balanced well-being. For the past three years, Tessa has helped cultivate this organization's mission on campus. She also serves as a health and wellness mentor to students in her role as a certified peer educator.
Tessa aspires to continue her passion for health education by pursuing her CHES credentialing in late April. Inspired by her mother's efforts to improve education and speech techniques for students with intellectual disabilities as a speech language pathologist as well as her father's daily dedication to caring for the health needs of his community in the emergency room, Tessa hopes to continue her parents' legacy by lending her efforts to help improve community health and wellness.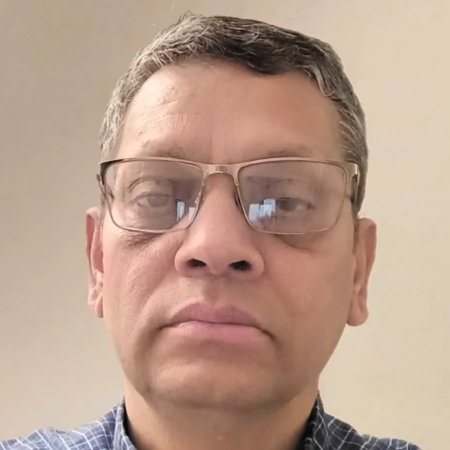 Hari Koirala, MPH
MPH Student
Columbia, MO
Hari was born and raised in rural Chitwan, Nepal, where he witnessed community health challenges because of rapid societal and environmental changes. Motivated by his own life experiences and family, he is constantly looking for ways to apply his education and skills to improve the quality of life of people.
Hari's passion and dedication to teaching have driven his academic achievement in pursuing a Master of Public Health and seeking further education. He hopes to pursue a PhD in Health and Rehabilitation Science at the University of Missouri to gain advanced research skills and expertise that will enable him to contribute to the field of public health in developing countries like Nepal.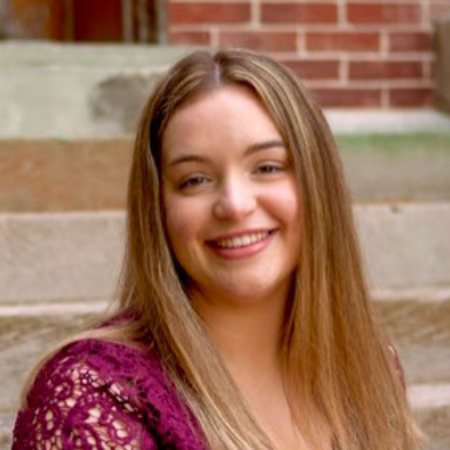 Hannah Allen, CHES
MPH Student
Columbia, MO
Hannah graduated summa cum laude from the University of Missouri with a Bachelor of Health Science and minors in psychology and human development & family science. During her undergraduate career, Hannah received her certification as a health education specialist and completed an internship where she worked on tobacco cessation projects.
Hannah is currently in the second year of the Master of Public Health program at the University of Missouri, where she also works as a graduate teaching assistant in the School of Health Professions. A Columbia resident since 2017, Hannah is interested in student mental health and overall well-being. In her career, she hopes to help mitigate the stigma surrounding mental health and increase access to resources that promote student wellness.
Amanda Pekau, BSN, RN, PMH-BC
MPH Student
St. Louis, MO
Raised in the Chicago suburbs, Amanda has always had the desire to advocate for and help others. After obtaining her Bachelor of Science in Nursing at Saint Louis University, Amanda spent the next six years working as a registered nurse primarily in inpatient psychiatry and as a case manager; she also obtained her board certification in psychiatric-mental health nursing.
Throughout her career, Amanda has gravitated toward mental health advocacy. She plans to continue that advocacy in the community to reduce mental health care disparities and the stigmatization of mental illness — primarily for underserved populations. Amanda is a proud pet parent to one dog and three cats, but she is eager to adopt more animals into her fleet. She spends her free time outdoors as much as possible, but she also enjoys playing Dungeons & Dragons with her friends and partner, attending various Renaissance fairs and collecting swords and other medieval weaponry.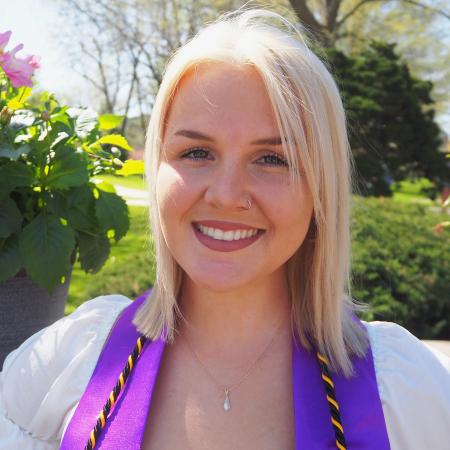 Anna Meyer, CHES
MPH Student
St. Charles, MO
Anna Meyer joined the University of Missouri's Master of Public Health program in the summer of 2022 after receiving her undergraduate degree in Health Science from Truman State University. Since coming to Mizzou, she has joined the MPH Graduate Student Association, the women's club soccer team and started working as a graduate research assistant. Anna hopes to become an environmental epidemiologist, working on issues related to enteric diseases.
She wants to acknowledge the love and support from her mother, Becky, and father, Doug, as she would not be able to accomplish her goals without them. She is excited to continue her public health journey by graduating this fall and finding a job within her aspired field. She cannot wait to get involved in the Gamma Eta Chapter of the Delta Omega Honorary Society in Public Health.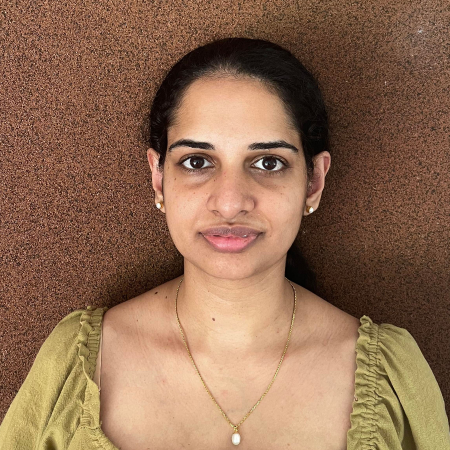 Thilini Gurusinghe
MPH Student
Cookeville, TN
Thilini received her Bachelor of Medicine & Bachelor of Surgery degree from the University of Science & Technology Chittagong and worked as a physician in Bangladesh and Sri Lanka before moving to the U.S. She got the inspiration to become a health professional from her mother, who worked as a physician in Sri Lanka for more than 35 years. Thilini had the opportunity to work with a variety of demographic groups from urban and rural areas in her work as a physician, which got her interested in public health and led her to pursue graduate studies in this field.
Thilini's areas of interest include maternal and child health, vaccine-preventable diseases and mental health. Her primary goal as a public health professional is to work on improving the health of society, especially focusing on underprivileged groups. She currently lives in Cookeville, Tennessee, with her husband and 8-month-old child.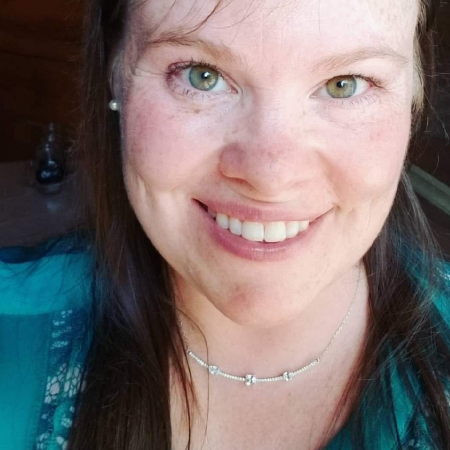 Gwen Nance, DVM
MPH Student
Divide, CO
Dr. Gwen Nance grew up in Alabama and completed her Bachelor's in Animal Science and Doctorate of Veterinary Medicine at Auburn University (War Eagle!). She spent almost 14 years in private practice, concentrating on client education, zoonotic disease prevention and mitigation, internal medicine, soft tissue surgery and dentistry.
Zoonotic disease prevention and mitigation has always been a passion of hers, which prompted her to pursue a Master of Public Health and Veterinary Epidemiology. She currently works for the United States Department of Agriculture as a veterinary medical officer. Her long-term plans include continuing her work in epidemiology, public health and zoonotic disease prevention and mitigation. Her hobbies include completing virtual exercise marathons, gardening, baking and rebuilding small engines.
Somia Hamed, Pharm.D., MPH
Alumni Inductee
Columbia, MO
Somia M. Hamed is a University of Missouri alum, graduating with her Master of Public Health in December 2015. She pursued a Doctor of Pharmacy at the UMKC School of Pharmacy, graduating with her PharmD in May 2023. Beyond graduation, Somia plans to pursue a career that furthers the public health and the pharmacy profession. During her studies in pharmacy school, she was able to participate in research on a small scale.
After graduation, Somia intends to pursue a career enabling her to conduct public health research that envelops pharmacy at a larger scale. Somia is a mother of three daughters and lives with her husband. In her spare time, Somia enjoys spending time with her family, reading, walking and listening to music.
Peggy T Fisher, DVM, MPH, MS, DABVP (Canine/Feline)
Alumni Inductee
Jackson, MO
Peggy T. Fisher has served the veterinary community for many years, involving the public, the biopharmaceutical industry and academics. Peggy believes veterinarians can serve numerous roles benefiting animals, humans and the environment. She actively serves as a private practitioner in the veterinary industry. Completing the MPH (2016) and MS in veterinary biomedical sciences (May 2023) will allow Peggy to fully integrate benefits to humans and animals. In addition to these responsibilities, she has donated services to communities lacking veterinary facilities to assist animal care and public health initiatives.
Beyond her two recent master's degrees, Peggy received a bachelor's in biology from Drury University and a DVM from the University of Missouri. In 2014, Peggy earned the honor of Diplomate, ABVP (Canine and Feline Practice) with recertification. Peggy's interests include family time, pets, friends, gardening and quilting.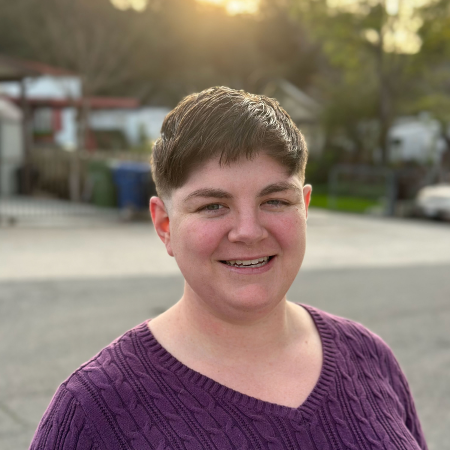 Lynley Fernandez, MPH
Alumni Inductee
La Crescenta, CA
Lynley Fernandez graduated from the University of Missouri with her Master of Public Health in veterinary public health and a certificate in epidemiology in July 2022. Since completing her MPH, she has worked for the International AIDS Vaccine Initiative as a clinical trial associate. In this position, she manages vaccine clinical trials for HIV and emerging zoonotic diseases, including Lassa Fever, Ebola and Marburg.
Lynley plans to pursue a Doctor of Public Health in epidemiology to further her education and eventually work as an epidemiologist, researching emerging zoonotic diseases. In her spare time, Lynley likes to play board games and bake desserts and sourdough bread. Lynley is grateful to her husband and two dogs for supporting her throughout her MPH and beyond.
Mark Bremer, MPH, MPA
Alumni Inductee
Columbia, MO
Mark Bremer is a policy analyst for the Centers for Medicare & Medicaid Services, where he oversees policy in the areas of Medicare Part B drug pricing, ambulance payment services, and strategy within the Division of Data Analytics and Market-Based Pricing.
Mark previously served as an operational excellence coordinator within the Missouri Department of Health and Senior Services, where he was responsible for executing projects across the public health landscape that included foundational public health services costing, public health accreditation, Missouri's state health assessment and its state health improvement plan. He has also served Missouri in various capacities within the Missouri House of Representatives and Missouri's Medicaid program, MoHealthnet.
He holds a Master of Public Affairs and Master of Public Health and an undergraduate degree in health sciences from the University of Missouri.
Kaitlin Woolery, MPH
Alumni Inductee
Norfolk, VA
Kaitlin Woolery is a recent Master of Public Health graduate from the University of Missouri and holds a Bachelor of Health Sciences from the University of Missouri Kansas City. She resides in Norfolk, Virginia, and works as a project specialist for the state of Kansas, where she assists in the implementation and program support of the COVID-19 Stay Positive Test Negative Initiative.
Kaitlin has experience in health care, grant funding allocation and data analysis. She is interested in pursuing a career in global health monitoring and evaluation, and she finds data analysis to be a critical tool for translating evidence into implementation improvements and policy recommendations. In her free time, Kaitlin enjoys traveling, volunteering at elephant sanctuaries and photography.
Jordan McCall, PhD, MPH
Alumni Inductee
St. Louis, MO
Jordan McCall, PhD, MPH, is an assistant professor in the Department of Anesthesiology and the Center for Clinical Pharmacology at Washington University in St. Louis. Jordan leads a multidisciplinary research program aimed at understanding the neural mechanisms underlying the emotional distress associated with stress, chronic pain and substance use disorders. The long-term goal of his laboratory is to take basic, circuit-level neuroscience research and apply these findings to advance therapeutic options for patients. In practice, this goal is achieved through the development of new technologies through collaborations with materials scientists, chemical and electrical engineers, mathematicians, computer scientists and clinicians.
He also co-founded a medical school course that integrates basic, preclinical pain science with practical experiences in the clinical treatment of pain and its societal impact. Outside of work, Jordan enjoys quieting his mind by swimming laps and attempting to quiet his home by chasing his three young kids.
Stephanie Reid-Arndt, PhD, ABPP
Faculty Inductee
Columbia, MO
Stephanie Reid-Arndt, PhD, APBB, is a professor of health psychology and senior associate dean at the University of Missouri School of Health Professions; she's also a fellow of the American Psychological Association. Dr. Reid-Arndt's approach to work in all settings has been strongly influenced by principles of resilience, hope and service to others obtained through her clinical training. Dr. Reid-Arndt has served as an elected member of the Executive Board of APA-Rehabilitation Psychology and the Board of Directors of the Academy of Rehabilitation Psychology.
She serves on the journal editorial boards for Rehabilitation Psychology and the Journal of Head Trauma Rehabilitation; she edited the Psychological Assessment section of the Encyclopedia of Clinical Neuropsychology, 1st and 2nd Editions, and co-edited the Handbook of Rehabilitation Psychology, 3rd edition. Before her current administrative roles, Dr. Reid-Arndt's clinical and research interests focused on the effects of cognitive deficits on daily functioning and quality of life among neurological and medical populations.
Sawiyyah "Chiquita" Chanay, MPH, MCHES
Honorary Inductee
Columbia, MO
Sawiyyah "Chiquita" Chanay, MPH, MCHES, is the education director and community health outreach specialist with MU Extension. She is an experienced public health professional with a deep commitment to the elimination of health disparities in marginalized populations. She has more than 20 years of experience in private, nonprofit and state government, with proven successes in program development, implementation, monitoring and evaluation of theoretically informed community-based programs that are culturally relevant to the populations they serve.
Her recent work includes programs that build capacity across the continuum of addiction in rural communities through evidence-based education and resources. Sawiyyah is a Doctor of Public Health student at Walden University. She lives in Columbia, Missouri, with her youngest daughter, MacKenzie, and fur baby, Stormi. They love to make visits to see her adulting daughter, Ruqayya, who lives in Atlanta.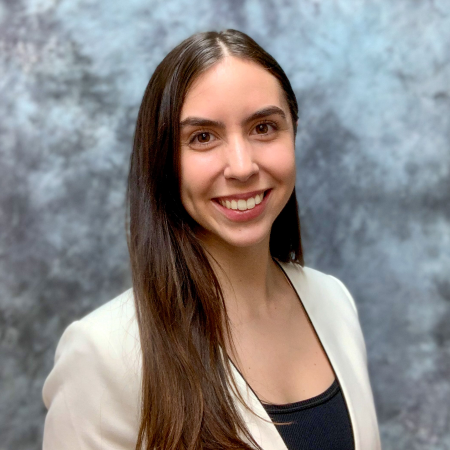 Ashley Estwin, BS
MPH Student, President-Elect
Holts Summit, MO
Ashley is a first-year MPH student in the Health Promotion and Policy program. She received her bachelor's degree in public health at California Polytechnic State University in San Luis Obispo, California. She served as a communicable disease investigator at the CDC Foundation, where she supported the emergency response for COVID-19, MPOX and Avian Influenza Surveillance in the Disease Investigation Unit at the California Department of Public Health.
Ashley aspires to use her experience in disease control to inform a career in public health law, with hopes of strengthening public health policies and laws that will enhance healthcare accessibility and affordability. Ashley is thankful to her family, friends, partner and colleagues for their consistent support as she pursues full-time work and academic studies. She is thrilled to serve as president of the Gamma Eta chapter and promote lasting impact in the field of public health.
Ashley is being inducted as the president-elect, and she will serve as the Gamma Eta chapter president for the 2023-2024 academic year. Congratulations, Ashley!
Featured in this post