News & Announcements
Missouri resident regains confidence and hope after Neuro Physical Therapy boot camp program
---
Dec. 22, 2022
Richard Huse grew up on a farm near Belle, Missouri. After leaving home and serving in the Air Force, he worked for more than three decades with the Xerox corporation. In addition to his professional success, he became an accomplished distance runner – he ran the Heart of America marathon in Columbia twice and qualified for the prestigious Boston Marathon.
But Richard's life was turned upside down when he suffered a stroke in 2019, and his active lifestyle was suddenly put on hold. After receiving physical therapy services from Mizzou PT alumnus David Nelson (DPT, '17), he slowly began to get back on his feet again. But when his insurance stopped covering the cost of the physical therapy appointments, both Richard and Dr. Nelson were concerned about what the next step would be in the recovery process.
But Dr. Nelson had another option in mind: The Neuro Boot Camp program run by the Department of Physical Therapy within the School of Health Professions at MU. The free annual program is organized by Anita Campbell, physical therapy associate professor, with support from fellow faculty member Carmen Abbott, adjunct clinical professor.
"Neuro Boot Camp is about more than exercise." Dr. Campbell said. "It is about empowering people to maximize their activity level so that they can thrive in their daily lives."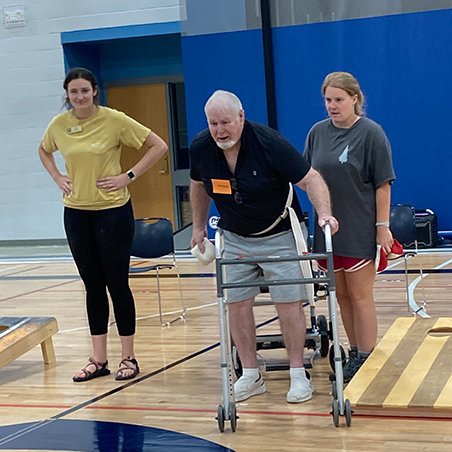 The program provides the tools for adults with neurologic diagnoses to be successful with a community-based wellness program by introducing them to a wide variety of exercise options and teaching them fun ways to maximize their activity. At the camp Richard attended, the group exercises were tailored to each participant with modifications based on their diagnosis and ability level. The sessions focused as much on education as they did on exercise so that participants felt confident in their ability to choose, modify and push themselves with exercise. Sessions were evidence-based and highlighted different types of exercise including agility and sports, aquatics, tai chi, yoga, dance, boxing and traditional fitness activities.
A toolkit provided to each participant included benefits, exercise guidelines, outlines of the exercises performed, as well as local and online resources to continue with the activity.
"The idea is that after they complete Neuro Boot Camp, participants can enjoy regular activity in their community. That could mean exercising on their own or joining a local fitness class. It is nice if there are adapted classes they can join, but my hope is that they can engage in wellness programs regardless," Dr. Campbell said. She calls it a bridge program that tries to fill the gap after therapy ends, but life goes on.
Both Richard and his wife, Barbara, were impressed by Dr. Campbell as they got to know her.
"Anita is such a rare person because she has such a passion for this. She has a vision for helping people," explained Barbara.
Although Richard was initially nervous when he arrived at his first Boot Camp session, those feelings of worry were quickly replaced by smiles and laughter. Each session featured a different activity, and Richard particularly enjoyed the sports, agility and yard games such as pickleball, corn hole and basketball. The participants were not only cheered on and encouraged by Dr. Campbell, but by physical therapy students as well.
"The students added a lot to the experience," adds Barbara, as they cheered, clapped and celebrated the hard work of those in therapy. "They made it fun," she said.
According to Dr. Campbell, the students got a lot out of the program too. "We have fantastic student volunteers for this program. Many students reported that the boot camp was not only fun for them, but that they learned a lot about adapting exercise and making it fun. They also saw that participants can often do more than they think they can," she said. "In the classroom, I teach them how important lifelong activity and moderate to high intensity exercise is after a neurologic diagnosis, but here they can see the benefits firsthand. More than one student told me that having the opportunity to impact the health and wellness of people in the community played a part in their job search after graduation."
When Richard's time in the Neuro Boot Camp program ended, he had regained a sense of confidence and purpose in his life. He now goes to the YMCA facility in his community to work out every other day. Although he still cannot walk as well as he once did, the boost in confidence and activity provided by the boot camp have helped him walk more in his daily life.
"I would just be sitting in front of the TV not doing anything else. Just being inactive," Richard responded when asked what effect the boot camp program has had on his life long-term.
Barbara summed it up with a different word: Hope. "This program has given him hope that he can be better physically than he is today," she said.
Recently, Dr. Campbell and Dr. Abbott presented on the Neuro Boot Camp design and preliminary research at the Academy of Neurologic Physical Therapy's national conference.
Featured in this post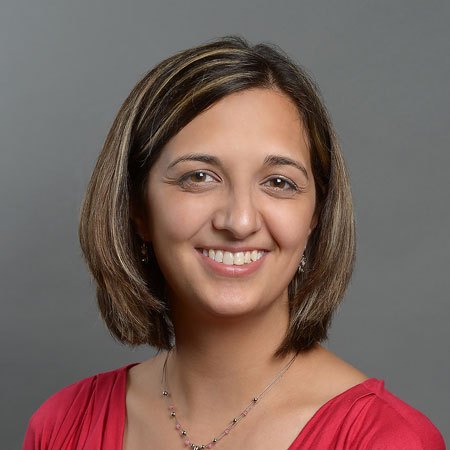 Associate Teaching Professor