News & Announcements
Mizzou Public Health alumni respond to COVID-19: Marissa Thomas
---
April 27, 2020
A crucial aspect in dealing with COVID-19 is keeping informed and up-to-date to make the best possible decisions to protect the health and safety of the public.
Marissa Thomas, MPH '13, is a Public Health Analyst for the Centers for Disease Control and Prevention (CDC) in Washington, D.C.
The CDC is a national public health institution responsible for providing key information on global health to the public and assisting with the requests and needs of Congressional offices.
Thomas is the COVID-19 communications and logistics lead for the CDC Washington office. Thomas and her team have been working tirelessly to provide Congress valuable and needed public health information regarding COVID-19 that legislators use to draft legislation as well as share with constituents.
Thomas's team proactively provides outreach and briefings in addition to responding to hundreds of inquiries, requests and letters regarding COVID-19 from Congress each week. Thomas coordinates all incoming requests and helps create and prepare materials for CDC senior leaders' hearings and meetings with legislators.
What has it been like trying to prepare materials for Congress?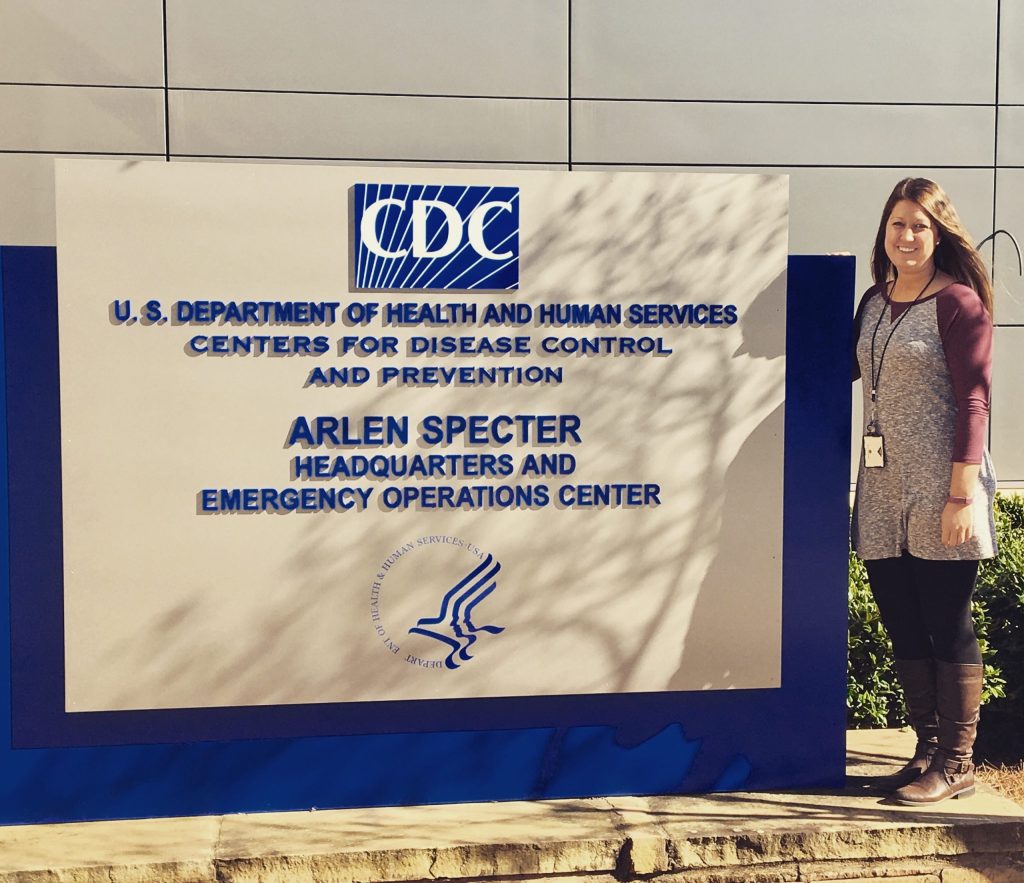 In preparing for interactions with Congress, our office may have an hour's notice that a CDC senior leader needs to join a call or we receive two weeks' notice if the agency is called to testify in a formal hearing. Currently, all hearings are on hold while Congress is on recess, which means we have had a large increase in one-on-one phone briefings with less time to prepare. Since January, my hours have increased as the severity of the outbreak increased. When we were still in the office, I was working 12-14 hour days to meet the requests of Congress. As offices have moved to working remotely, our hours are still spread out as we accommodate working with those in different time zones.
What part of your job are you enjoying the most right now, and why?
I enjoy starting my day with the Incident Management meeting to hear all the great work that is being conducted across the agency and the optimism from our senior leaders. The IMS structure is composed of several task forces such as laboratory, epidemiology, global migration, partnerships, etc. and everyone plays an important role.
Are there any misconceptions you think the public has about the CDC's role during the pandemic and/or how the CDC interacts with Congress?

I believe that many people think CDC handles/leads every single issue involving this pandemic. CDC has a key role, but we have huge support and assistance at the international, federal, state and local levels. It's an all-hands-on-deck situation and everyone plays a significant part.
How would you say the Mizzou Master of Public health program/degree prepared you for the work you're doing now?

The Mizzou MPH program offered me a well-rounded curriculum, covering all aspects of the public health field, which allows me to easily work with colleagues across the agency, from scientists to communication specialists. I believe the opportunity to take several online courses taught me self-discipline and allowed me to adapt to this new world of remote work.
What else should Health Professions students, alumni, or the general public know about the work you and the CDC are doing?

CDC makes recommendations for the public, but it is ultimately up to every single person to do their part in following guidance to stop the spread of COVID-19. We have been working on this response since the start of the New Year, before it had an official name and before it arrived in America. Viruses know no borders, which is why global health is so important. While the world is in crisis, I am truly impressed and grateful for the public health professionals who continue to make personal sacrifices and work long hours to respond to this pandemic.
**This story is part of a larger series of Health Professions alumni responding to COVID-19. Read the other alumni stories.**