News & Announcements
Mizzou RT Alumni Respond to COVID-19: Ivan Lee
---
April 10, 2020
Respiratory therapists are often overlooked, yet among the most vital health care professionals when it comes to treating COVID-19 patients.
The new coronavirus significantly impacts some people's ability to breathe without assistance. Once a patient needs breathing assistance from a ventilator, hospitalization becomes necessary, and respiratory therapists become essential to a patient's care. RTs specialize in providing health care for your lungs and have advanced knowledge of high-tech equipment such as ventilators.
Ivan Lee, BHS '12 (respiratory therapy), has been fighting the pandemic in Singapore, where he works as his hospital's principal respiratory therapist.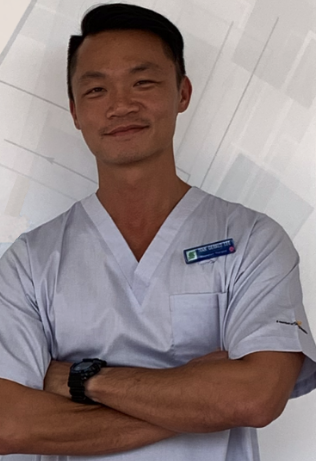 What has been the biggest challenge for you as a respiratory therapist/health care professional during the pandemic?
Being at the front line of it all in the intensive care units was stressful at the beginning because we had no idea just what we were dealing with and what to do to keep it from spreading. The biggest challenge would be ensuring the safety of our loved ones by making sure that we keep ourselves safe while we [care for] critically ill patients.
What have you enjoyed most about your job during this challenging time?
The solidarity witnessed in health professions, and the widespread support and gratitude for health care workers are heartwarming. There is also newfound respect and understanding of what respiratory therapists do.
What do you wish the general public knew about respiratory therapy?
The biggest misconception would be that respiratory therapists are just technicians dealing with technology and equipment. However, we are much more than that. We are a group of health care professionals who are specifically trained to assess and provide life-saving care to patients. Most people taking breathing for granted until that is the one thing that they cannot do, and respiratory therapists will be there to help, one breath at a time.
**This story is part of a larger series of Health Professions alumni responding to COVID-19. Read the other alumni stories.**