News & Announcements
Negative body image could lead patients to avoid cancer screenings
---
Oct. 31, 2023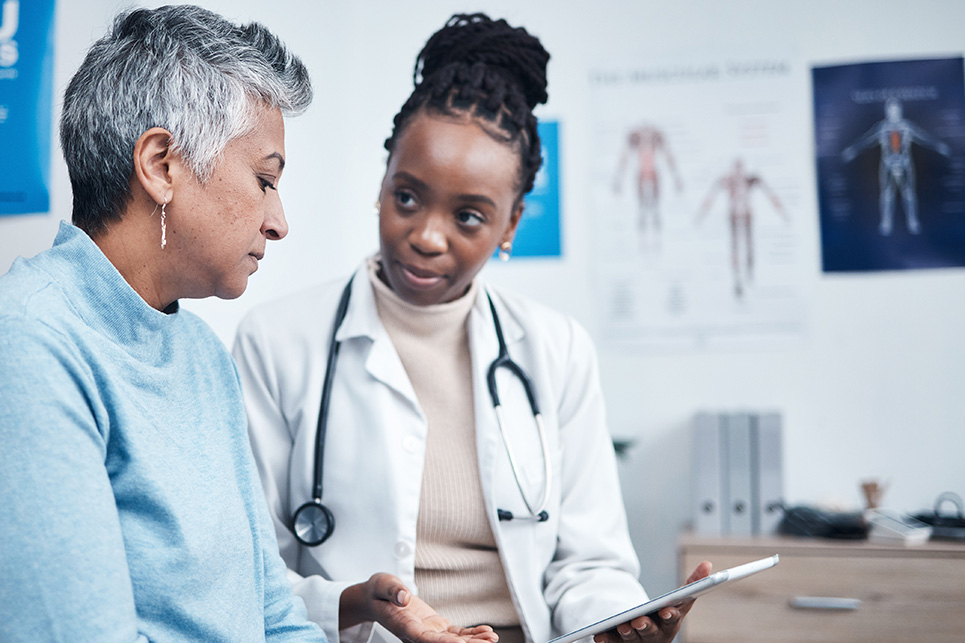 Story by Ryan Gauthier
Women who don't have positive feelings about parts of their bodies could be avoiding important cancer screenings — ultimately leading to worse health outcomes over time.
Two researchers with the College of Health Sciences are looking into the relationship between female self-image, internalized weight stigma and related cancer-screening avoidance.
Virginia Ramseyer Winter, an associate professor in the School of Social Work and director of the Center for Body Image Research and Policy, collaborated with Kate Trout, an assistant professor with the Department of Health Sciences, on this study. The duo found that nearly 30% of respondents reported avoiding pap smears, clinical breast exams and mammograms due to reasons related to weight stigma.
While all three of these screenings are considered crucial preventive care for women, Drs. Ramseyer Winter and Trout observed that women are more likely to avoid them if they have a negative self-image of the related body part.
"When we're talking about avoiding things like pap smears, this is very specific to genital body image," Ramseyer Winter said. "Folks can have really negative genital body image but very positive overall body image, or vice versa. It's important when we're looking specifically at things like pap smears or breast exams that we're looking at body image related to those body parts."
The research also highlighted a significant connection between internalized weight stigma and genital self-image.
"The odds of avoidance decrease as female genital body image increases," Trout said. "So if you have a positive female general body appreciation, then you will be less likely to avoid those screens."
Beyond individual changes to improve body image among patients themselves, Ramseyer Winter and Trout said health care systems could take some steps to address this issue and encourage women to get these crucial health screenings.
"Workforce training is needed to let providers know about issues related to female body image and weight stigma, including health care avoidance," Trout said. "By starting a dialogue with patients about what they're comfortable with and what they aren't comfortable with, providers can deliver more patient-centered experiences."
Moving forward, the team hopes to conduct additional research into patient experiences with weight stigma in health care — particularly as it relates to sexual and reproductive health care. The hope is that by establishing more weight-inclusive health care protocols and provider interactions, patients will be more motivated to seek care when they need it.
"The quicker you can catch cancer, the better the prognosis is going to be," Trout said. "We know these screenings are life-saving, so it's important to find ways to encourage all women to visit their providers and get checked."
Featured in this post
PhD Program Director and Associate Professor