News & Announcements
Neurologic physical therapy residency prepares students for highly specialized field
---
Dec. 5, 2022
By Gracie Hedenberg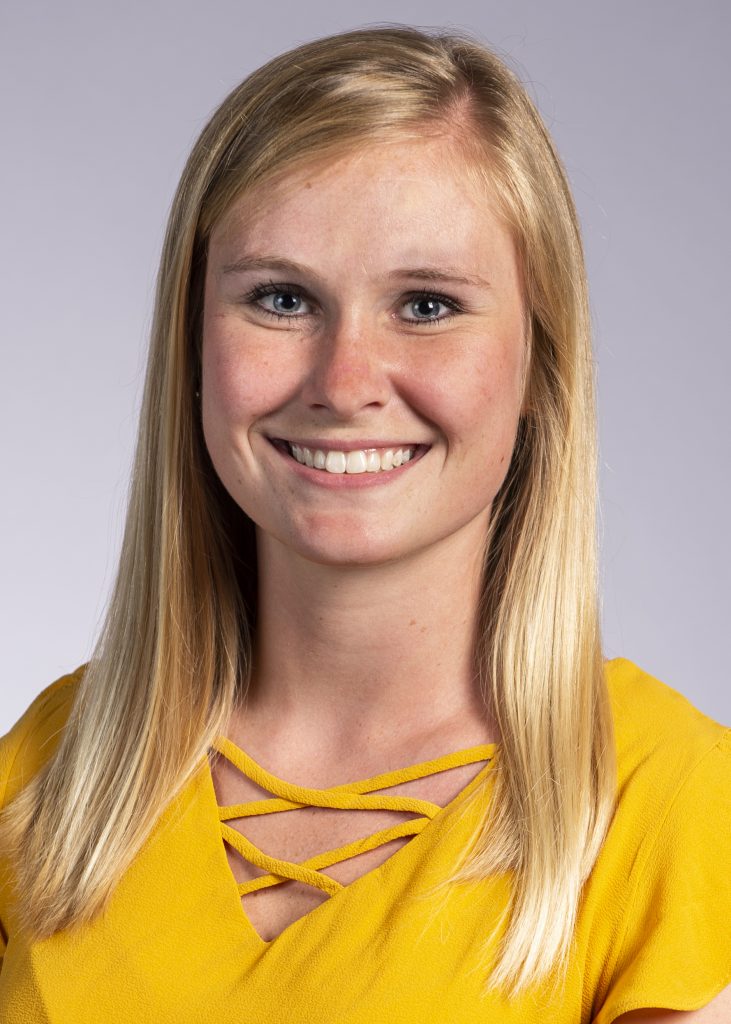 Neurologic PT residency programs are small, rigorous and selective due to their highly specialized nature; Kayley Stock (DPT '21) is one of two students in MU's second class of neurologic PT residents. Neurologic PTs treat patients with a multitude of neurologic diagnoses, including head and spinal cord injuries, so treatment varies based on the injury's stage, from outfitting patients with equipment they need, to functional tasks like re-learning how to walk after a brain injury.
As a resident, Stock is working toward her board certification so that she can begin the work she is passionate about as a specialized professional– helping patients with neurologic conditions reach healthier, more fulfilled lives – as soon as possible. Board certification requires a certain number of lab hours and clinical hours to sit for the board exam, so while professionals can do it outside of a residency program in several years, a residency program shortens the process to only 12 rigorous months.
There are three different clinical settings Stock completes the hands-on portion of her residency at as a resident at MU. She works with patients every week in either inpatient rehab, outpatient rehab or University Hospital, and the setting changes every few months until graduation. In each setting, Stock has several hours of weekly mentor sessions to learn from experienced therapists to improve and collaborate on patient care. Seeing what treatment will look like, providing treatment as a clinician and collaborating with other professionals in the field prepares Stock for her post-residency career.
"Through the residency program, we get to see each setting, whether it's a patient on day two of their hospital stay or two months down the road in an outpatient clinic," Stock said. "We collaborate with other health professionals to try to facilitate anything and everything that a patient needs to succeed."
Stock spends Tuesday-Friday each week in the clinical settings, treating patients, and Monday in the classroom with her PT resident peer and the residency's program coordinator Rebecca Bliss. During their classroom day, which they call didactic day, they discuss the most recent research updates, articles and podcasts so they can apply what they have learned in the week's upcoming clinical settings. The residents also work on projects, supervise undergraduate labs or hear from expert guest lecturers as part of their residency program. Dr. Bliss mentors Stock within the classroom, as well as in the clinic when she works at an outpatient PT.
"Our partnership between the School of Health Professions and MU Health Care is so valuable because it extends our reach of faculty not only within the Department of Physical Therapy but also other departments such as Health Psychology, Physical Medicine and Rehabilitation, and the Motion Analysis Center," Dr. Bliss said. "This allows our residents to learn from experts in the field both within and outside the field of physical therapy as our patients' needs require multi-disciplinary collaboration."
Mentorship is essential to the program in many ways, including clinical, research, leadership and typical classroom-style educational roles.
"During the week, I receive at least four hours of mentorship in the clinic to help me take a deeper dive into patient diagnoses and evidence-based treatment options," Stock explained.
Mentors also helped Stock find her passion for neurologic PT as a DPT student at MU.
"I didn't know what area of PT I wanted to go into at first, but I had some great mentorship and clinicals that played a huge role in finding my passion," Stock said. "I had inpatient and outpatient experiences in neuro and clinical instructors in neuro that helped me have the hard conversations to help me find what I want in my career."
Stock says that the thoroughness and high engagement of this residency program made her apply to MU and nowhere else.
"As a DPT student, I saw that Mizzou had the rigor, mentors and challenges I was looking for as a lifelong learner gaining confidence in my skills. The program has unique learning tools that I knew fit my style of learning, and the mentoring and coaching at Mizzou do too."
Featured in this post