News & Announcements
New faculty spotlight: Laura Morett
---
Aug. 24, 2023
This is part of a series of Q&As introducing faculty who have joined the College of Health Sciences for the 2023–24 academic year. Meet all of our new faculty members.
Laura Morett
Assistant professor, Department of Speech, Language and Hearing Sciences
What classes are you teaching this semester?
I'm teaching SLHS 8300: Neurological Bases of Speech and Language.
Tell us about yourself. What is your background?
I'm from Newark, Delaware, and I have always been fascinated by language. Originally, I was interested in teaching English and Spanish at the secondary level. When I found out that I could conduct research to study how people learned language and help them learn better — in addition to teaching myself — I was hooked!
My academic background is interdisciplinary and focuses on hand gestures and their relationship to language in typical and atypical populations. My Ph.D. is in cognitive psychology, I completed postdoctoral fellowships in psychiatry, and my last position was in educational psychology, so it seems only fitting that I'm joining the Department of Speech, Language and Hearing Sciences.
What brought you to Mizzou? To your field?
I came to Mizzou as part of the MizzouForward initiative, which supports faculty conducting research addressing pressing challenges. Speech, language and hearing sciences is a great fit for me because I'm interested in how hand gestures can be leveraged to help people who struggle to communicate do so more effectively. I'm excited to contribute to the research growth in my department, collaborate with colleagues and mentor students within and across departments.
What is your favorite thing about your job?
My favorite part of my job is conducting research that helps to advance the frontiers of knowledge and benefits society in tangible ways. I also love to mentor students and see them gain an appreciation for research and grow as researchers themselves. Finally, I enjoy conducting scientific outreach and sharing my research with the public.
What has you excited for this semester?
Getting my lab set up and running as well as teaching students with a more applied perspective. Also, meeting new people and getting to know my new community.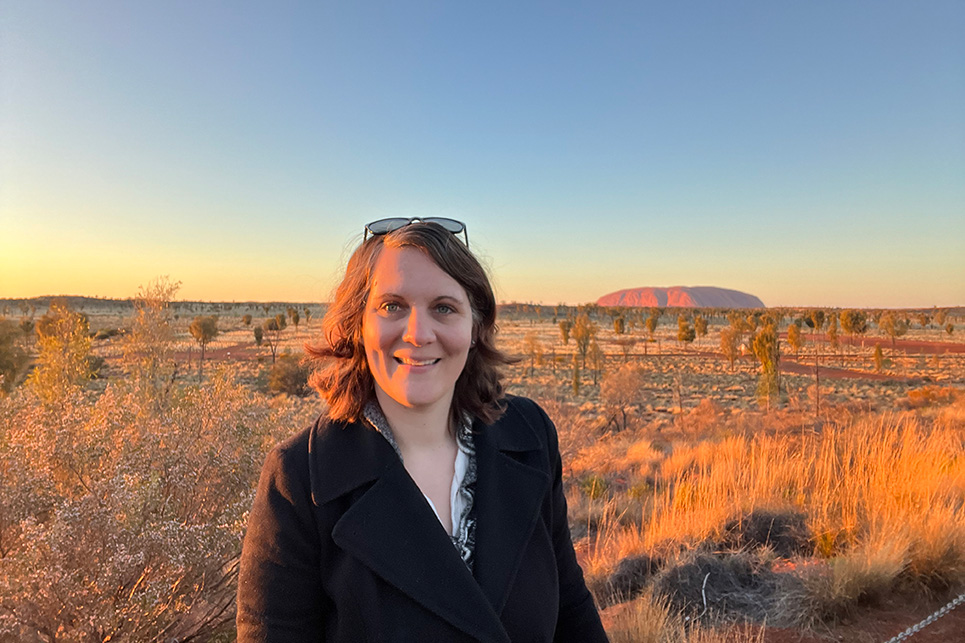 What is a fun hobby or activity that you enjoy outside of work?
I love to travel and recently went to Australia for a conference and was able to visit Uluru and the Great Barrier Reef. I also enjoy cycling and look forward to exploring the MKT and Katy trails. As a new homeowner, I'm working on polishing my interior design, DIY and landscaping skills. I love watching hummingbirds visit my new feeder and snuggling with my cats, Oreo and Cookie.
Could you share a memorable moment from your time teaching?
I recently had the honor of hooding two of my Ph.D. advisees. I'm proud of their accomplishments and look forward to having the opportunity to mentor students at Mizzou and help them achieve their dreams.
What is your hidden talent?
I enjoy singing karaoke (especially Madonna!) and cooking (especially mac and cheese!). I'm looking forward to getting a wood pellet grill and learning how to smoke barbecue soon.
What is the best piece of advice you've ever received, and who gave it to you?
A senior collaborator and colleague once showed me an elephant figurine that he keeps in his office and told me that it reminds him that you need thick skin to succeed in academia. This is consistent with my experience that perseverance, more so than any other characteristic, is the key to success as a researcher.
Featured in this post