News & Announcements
New study abroad program to focus on health care, public health in South Korea
---
Sept. 5, 2023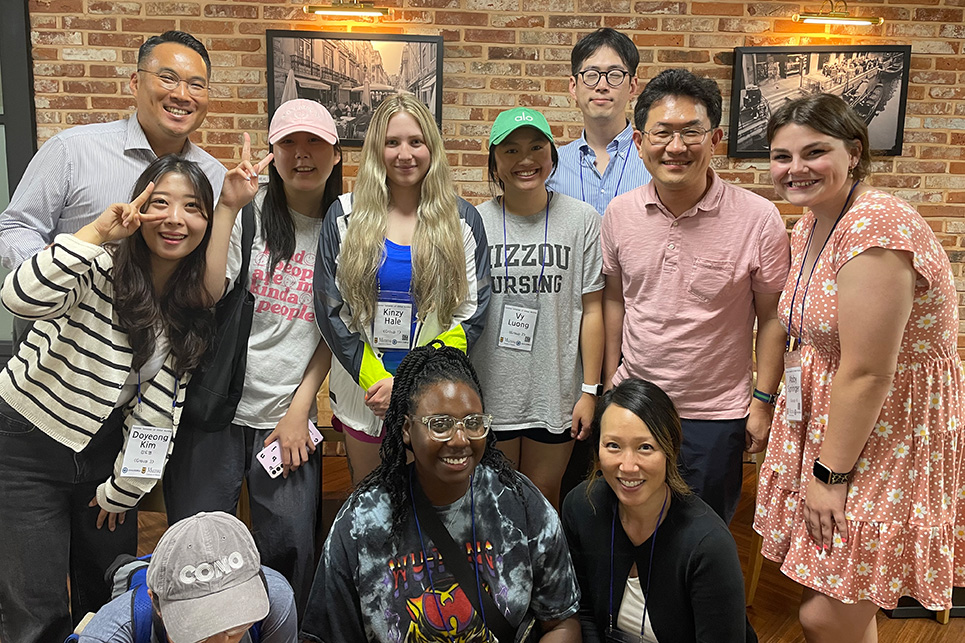 When Mansoo Yu was approached about starting a study abroad program in South Korea, it felt like it was meant to be.
Dr. Yu, a professor in the Department of Public Health and the School of Social Work, has been running an MU study abroad program in Greece since 2016. He also has worked as a visiting professor with Sungkyunkwan University (SKKU) in Seoul, South Korea, for the past two summers.
Based on his successes in Greece and connections in South Korea, Yu said MU International Programs approached him to see if he would be willing to develop a new study abroad program.
"K-pop and K-drama are super popular right now in the United States," Yu said. "Students are curious about Korea, and International Programs was interested in meeting that demand. Given my existing network with my colleagues in South Korea and then my visiting professorship with SKKU, it was just perfect timing."
Dr. Yu's new study abroad program to Korea will launch in the summer of 2024, with students spending two weeks in the country between late July and early August. In addition to learning more about health care and public health, Yu hopes students will come away from the trip "thinking big and thinking globally."
Connecting the dots
It might have felt like fate from the start, but Yu said there are always a lot of details to work through before launching something as major as a study abroad program. Thankfully, he received a helping hand from the highest levels of the University of Missouri — along with some encouragement from UM System President Dr. Mun Choi.
"President Choi has met many people who saw the potential in a program with South Korea," Yu said. "When I had a chance to meet with him and share my plan, he actually introduced me to several people who helped bring everything together."
Yu was in South Korea this summer as part of his visiting professorship at SKKU, and he used it as an opportunity to scout out possible places of interest. He would teach classes all week and spend his weekends as a tourist, trying to find sites that would offer students a solid mix of educational and fun activities.
The tentative plan is to spend portions of the trip in the major cities of Seoul and Busan as well as Jinju, a more rural environment in the southern part of the country. Study abroad participants will be immersed in South Korean culture throughout the trip, Yu said, including everything from taking a K-pop dance class to cooking traditional Korean cuisine.
"It's very important that students have opportunities to learn about some different culture — and that includes food," he said. "I'm not sure how many students are familiar with Korean food, but kimchi is one of the most popular dishes. There's even a kimchi museum, so we might tour the museum and take a class to learn how to make our own."
Students who participate in Dr. Yu's study abroad trip to Korea will enroll in one of four courses:
P_HLTH 8001: Public Health Study Abroad (3)
SOC WK 7001: Topics in Social Work (3)
P_HLTH 4002: Public Health Study Abroad (3)
SOC WK 4101: Topics in Social Work (3)
While the trip is designed with the interests of College of Health Sciences students in mind, Yu said non-CHS students are also welcome to join the trip.
"It's really an opportunity to learn about a different country and see what they're doing in terms of health care, health issues, public health and social services," Yu said.
Students interested in participating in the program will have until Feb. 15, 2024, to submit their applications. They can learn more about the program by contacting Dr. Yu directly at yuma@missouri.edu.
Featured in this post