News & Announcements
Pre-PT Scholars program provides path for underrepresented and under-resourced students
---
Feb. 13, 2023
Story by Alex Ethridge
Studies show that patient satisfaction and health outcomes are improved when health providers and their patients have similarities in their racial, ethnic, language and socioeconomic backgrounds. Data from the American Physical Therapy Association shows that the physical therapy profession is lacking in therapists from underrepresented groups.

At the University of Missouri School of Health Professions, the Department of Physical Therapy is working to combat this problem through a new pathway program called Pre-PT Scholars. The program supports Mizzou undergraduate students with mentorship, advising, academic tutoring, opportunities for professional connections, community building, and professional skills development to set them up for success when applying to graduate school physical therapy programs. To apply for the program, students must be a first-generation college student, an underrepresented racial/ethnic minority as designated by the profession and University of Missouri, or economically disadvantaged as indicated by Pell Grant eligibility.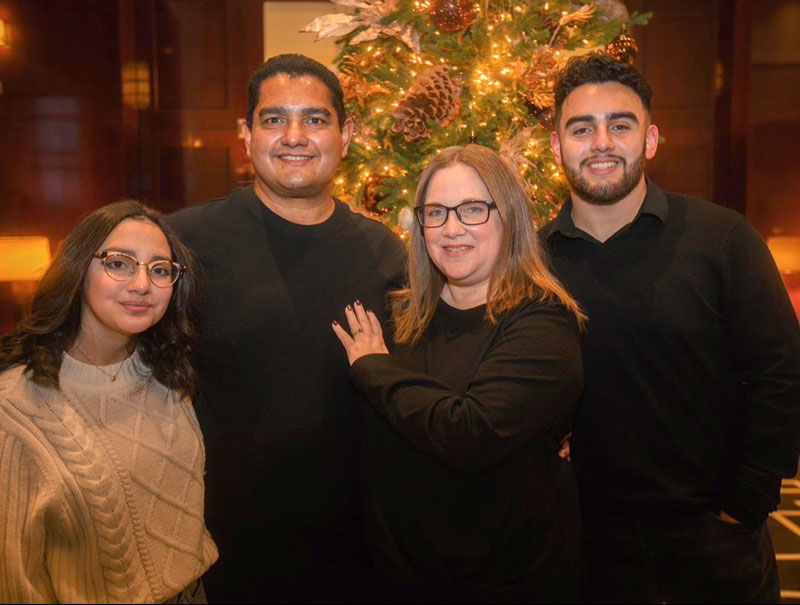 The program seeks to support students that may have not been exposed to the resources and knowledge necessary for successful PT school application.

"Diversity in the clinic has shown to improve patient outcomes," says Anita Campbell, Pre-PT Scholars program coordinator and associate teaching professor. "I am proud to see our department implementing programs that are helping students in a real way and creating a climate in which all feel welcome."

Julian Sanjur's mother, Linette, was born in Puerto Rico; his father, Aquilino, was born in Panama and immigrated to the United States when he was about 18. As one of the first participants in the program, Sanjur feels he has gained valuable skills that he would not have known about without Pre-PT Scholars.
Sanjur, who was recently accepted to a physical therapy doctoral program, says the tutoring he received through the Pre-PT Scholars program helped him improve his grades in classes such as biology and statistics. Higher grades in these classes, which physical therapy programs look at closely, ultimately strengthens a candidate's application.

Sanjur also noted that the program helped him gain confidence and build connections with current professors.

"When I interviewed for Mizzou's PT program, I was super nervous going into it," Sanjur said, "but then I realized I already had relationships with three or four out of the seven faculty members who interviewed me, and I felt a lot more at ease."

In addition to the tutoring, Pre-PT Scholars are paired with a mentor the scholars meet with at least once a month to answer questions and discuss the application process. Mentors are knowledgeable about the necessary skills to apply for and succeed in graduate school.
Pre-PT Scholar Erin Miller really values her mentor, Alyssa Leonard, BHS '17, DPT '20, and the time they spend together.
"She's someone I can rely on to help answer questions about the process of applying to PT school," Miller says. "She's even helped me understand some of my anatomy work. She's there for me."
Leonard said that she's also enjoyed being a mentor for the first time.
"It would've been so nice to have a resource to bounce questions off of when I was applying for PT school," she says, "I like seeing Erin thrive and get excited about the profession."
Leonard is also passionate about this program because she knows what it's like to be a nontraditional student. When she was in graduate school, she dealt with a chronic health issue that affected many aspects of her education.
"The Pre-PT Scholars program is really cool," Leonard says. "I am really hopeful that this will help increase the diversity in our field."
Pre-PT Scholars opens applications in late spring for the following academic year. Interested students should reach out to their undergraduate advisor for more details.
If you are interested in supporting this program, consider making a gift to the Health Professions Pipeline Scholarship fund. For more personalized giving options, contact Todd Pridemore.
Featured in this post