News & Announcements
Respiratory Therapy alum returns to Mizzou and encourages students 
---
Dec. 1, 2022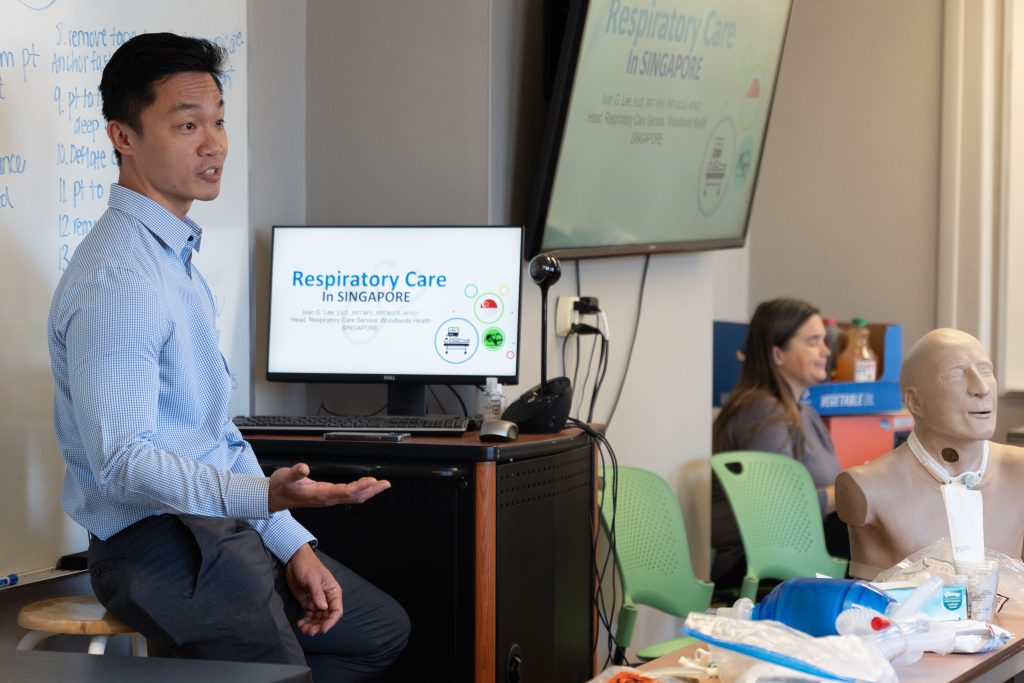 By Cheri Ghan
Mizzou's Homecoming was Oct. 22, but as far as Ivan Lee, BHS-RT '12, is concerned, his Homecoming was Nov. 17. As he wrapped up a 32-day tour of the United States as part of the American Association for Respiratory Care (AARC) International Fellowship Program, the Singapore native came home to Mizzou to not only reminisce, but also to urge current Respiratory Therapy students to learn their profession well and be prepared to play a major role in the health care of each of their patients.
Lee is passionate about the role RTs play in health care. As an AARC international fellow, he is in the states to observe the practice of respiratory care in different-sized facilities as well as visit RT educational programs like Mizzou's. His visits included New York-Presbyterian Brooklyn Methodist Hospital, Long Island University, University of Texas Medical Branch and Texas Children's Hospital. He told juniors in the School of Health Professions RT program he knows from his personal experience they are in a good place to learn the best methods of care.
"I won't sugarcoat it, it was hard here, but it is tough for a reason," he told the students. "At Mizzou we have a reputation for excellence, and at national meetings we always have a good representation of Missouri graduates. We don't just push buttons; we're an important part of patient care and we can play a big role beyond the ICU."
In 2018, Lee earned a master's degree in respiratory care leadership from Northeastern University, followed by a doctorate in health professions education from A.T. Still University Medical School in 2021. He is an advocate for more professional growth within the RT profession and says while a lot of RTs still do not have bachelor's degrees, they must continue to grow in their knowledge.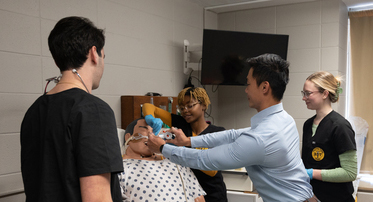 "I also think research in the area of RT is important but lacking," Lee said. "It is very important when talking to doctors to be able to back up what you say and cite evidence for what you say or do. I'm done with my degrees, but that doesn't mean I stop learning."
Lee chronicled his US journey on Facebook but saved his sentimental comments for his first alma mater – Old Mizzou.
"Being back at Mizzou is always a surreal experience," Lee posted on Facebook. "This is where everything really began."
Kathy Myers, clinical professor and chair of the Department of Clinical and Diagnostic Sciences, academic home to the RT Program, was one of Lee's professors when he was an undergrad student. She describes him as a curious, energetic and dedicated student. 
"He was passionate in his pursuit for deep understanding of concepts, tenacious in making the most of opportunities to network with others and unrelenting in his commitment for clinical excellence," Myers said, calling him a trailblazer in respiratory care in Singapore while maintaining and growing professional relationships in the US. 
Lee currently serves as head of respiratory care for the new Woodlands Hospital under construction in Singapore. Since the facility will not open until 2024, his team, which also offers pulmonary function care and runs a sleep lab, works in various facilities in Singapore.
"Because we have pulmonary function and the sleep lab, our RTs experience the full spectrum of patient care," Lee said. "We are respected professionals who work within the team to provide good options for quality patient care. If the pandemic did anything, it exposed what RTs do and why it matters."
Myers calls Lee a role model in his commitment to the profession of respiratory care.  
"Dr. Lee has seized every opportunity to prepare himself to positively impact the respiratory therapy profession in the future," she said. "He is clearly going big places after getting a solid start as a loud, proud and true MU Tiger!"
Featured in this post