News & Announcements
---
April 19, 2021
One of the defining characteristics of School of Health Professions students is their desire to improve lives. David Gardner II, a senior Health Sciences major from Chicago, is an example of what it means to bring heart and dedication together to help others.
Journey to Health Professions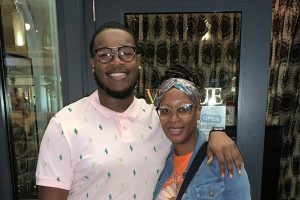 Gardner transferred to Health Professions his junior year after initially pursuing an education in animal science. Meeting with his adviser and talking to family members helped him choose to pursue a career in health care administration.
"I'm not necessarily hands on with the patients or anything, but I'm still helping," Gardner said.
Gardner knows he'll be entering this field as a minority. To him, establishing patient trust in the administration is a top priority. "My grandmother has told me, 'You want to do this, go into that career field.' It's good [for people] to see other black guys [in these positions]," said Gardner.
Gardner's family has always had high expectations for Dave. His mother, a psychology professor, and his grandmother, a civil rights activist who marched with Dr. Martin Luther King Jr., have always pushed him to do his best. Gardner attributes his drive for success as a means of giving back to them.
"I want to be able to do for my family everything that they did for me," he said.
Mentoring on campus
As soon as Gardner transferred to Health Professions, he looked for ways to get involved. Jill Diener, assistant director of student services, connected him with Cheri Ghan, recruitment coordinator. Now he's a student ambassador for the School of Health Professions.
Diener also put Gardner in contact with Tommy Thomas III, diversity initiatives coordinator. Thomas invited Gardner to help plan the school's Black alumni panel. With Gardner leading the student planning committee, a record number of students attended the event.
His freshman year, Gardner was accepted to the Mizzou Black Men's Initiative (MBMI), which provides support, development and involvement opportunities to ease students' transition to Mizzou. As an upper-level student, Gardner was able to mentor new freshmen and guide them through the initial college struggles of schedules, advisors and course loads. He's also mentored others through the Black Collegiate Network.
"I know people who have gotten caught up in the prison system, and I lost a couple of my friends to gun violence back home," Gardner said. "Those things definitely helped shape and motivate me to do the best that I can on my end because it allows me to give back. That's why I really like mentoring."
A future of caring
After graduating with his bachelor's degree this May, Gardner will stay at Mizzou to complete a master's degree in health administration.
"Health care administration is more than just a business-oriented job," Gardner wrote in his personal statement for graduate school applications. "I know I'll find joy in my work from being able to not only make sure patients are making it home healthy, but [also that] their families are able to be happy and still have their loved one."
Wherever his career takes him, he plans to continue mentoring others.
"I always think about how I can be helpful to other undergrads and other students," Gardner said. "If somebody reaches out to me and I can get them an opportunity or get them some type of help or advice — that's something that I definitely want to always be able to do."
That attitude has won Gardner many Mizzou fans, including Ghan, his supervisor.
"Dave has everything it takes to be a real change agent," Ghan said. "He has a powerful story, is smart, determined, passionate, and has such an incredible personality. Students and parents alike are instantly drawn to Dave because of his obvious concern and interest in helping them. Once he found his passion to care for people through better management, I knew he was on his way. In fact, because of all this, the letter of recommendation I wrote for him for grad school pretty much wrote itself. To me, that says it all."
"I plan on being the outlier that shines bright to inspire and help those who come after me to reach for the stars." –David Gardner II
Featured in this post