News & Announcements
Siblings making strides thanks to collaborative approach to therapy
---
April 4, 2023
By Mia Hollander
When the Adams family had triplets back in 2012, they knew it wasn't always going to be smooth sailing.
After carefully navigating a high-risk pregnancy, Teri Dowds-Adams and Brent Adams welcomed triplets Ashlee, Daniel and Madison to the world more than four months ahead of their due date.
Babies born before the 26th week of pregnancy or weighing less than 28 ounces are considered micropreemies. At 23 weeks old, the Adams triplets had about a 24% chance of surviving.
Although two of the triplets were able to overcome those odds, tragedy struck five days after birth when Madison died due to a Grade 4 brain bleed. Following this heartbreaking loss, Ashlee and Daniel spent five months in neonatal intensive care units (NICUs) undergoing life-saving procedures and surgeries. They weighed only 5 pounds each when they were finally discharged from the NICU, and they went home with oxygen support, heart monitors, dozens of medications and supplemental formula for weight gain.
Immediately, the Adams children began early intervention services at home to help them with feeding, building overall strength and developing skills. Thanks to plenty of hard work and dedication from family members, therapists and health care providers, Ashlee and Daniel continued to grow and achieve their developmental milestones — albeit slightly delayed.
"Of course, their abilities/milestones were not matched to their chronological age," Teri said. "We just hunkered down and stayed focused on doing whatever we could to help them thrive."
Moving pieces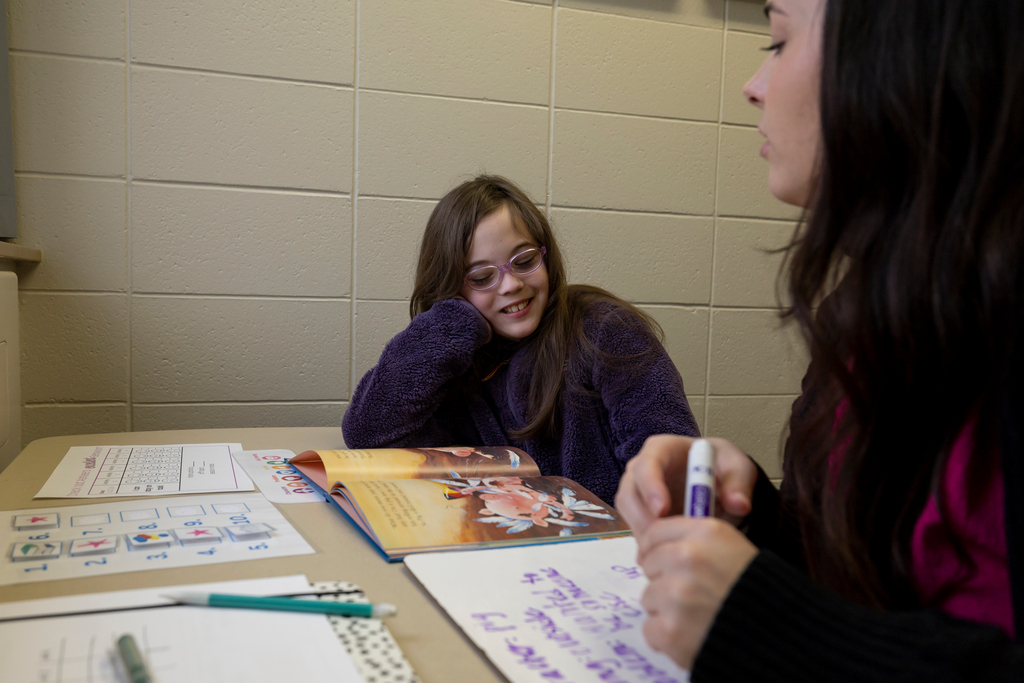 Maintaining a healthy environment while providing their children with the necessary services was far from easy for Teri and Brent. Although raising micropreemies carries significant challenges, the Adams family embraced these struggles with open arms.
Brent had a job opportunity that moved the family to Virginia, where Ashlee and Daniel eventually entered kindergarten. The siblings received physical, occupational and speech therapy care through the public schools. They also were enrolled in private therapies outside of school hours to fill any gaps.
But as was the case for just about everyone when the COVID-19 pandemic hit, the family faced a whole new set of challenges. Brent's work prompted a move to Missouri in July 2020. Due to the unknowns of the pandemic, Teri opted to stay in Virginia with their kids for an additional year until they could safely relocate without concern of health risks.
But the family's move to Missouri had unintended consequences: The children lost their Medicaid coverage, which served as a secondary form of insurance to offset expenses not covered by their primary insurance. Suddenly, they had to navigate a cap on the number of therapeutic service visits allowed by their primary insurance.
"We had to find an affordable option that could meet our children's needs," Teri said.
In 2022, Daniel and Ashlee both began receiving occupational therapy through TigerOT, speech therapy via the MU Speech and Hearing Clinic and physical therapy through PhysZOU. The 10-year-old siblings now receive physical therapy once a week, occupational therapy once a week and speech therapy twice a week.
Because TigerOT and PhysZOU are both pro bono clinics — only requiring a referral from a doctor — and the MU Speech and Hearing Clinic is a blanket fee per semester, Teri said her children are able to get the care they need without driving the family into poverty.
The ability to access therapy at the clinics has given Teri and Brent a sense of support and relief that they said they had not been able to find before. The Adams parents said the key difference is the holistic approach the teams take in providing care to their children, which includes comprehensive reports, measured data and interdepartmental collaboration across all three therapies.
"At all pediatric School of Health Professions clinics, the students work with the families to write goals, identify needs, do evaluations and modify as needed. The faculty advisor closely monitors and tweaks wherever needed," Teri said. "We get a mid- and end-semester report with goals and measures of success presented during a sit-down review session by students and their advisor. We could not ask for more."
A team approach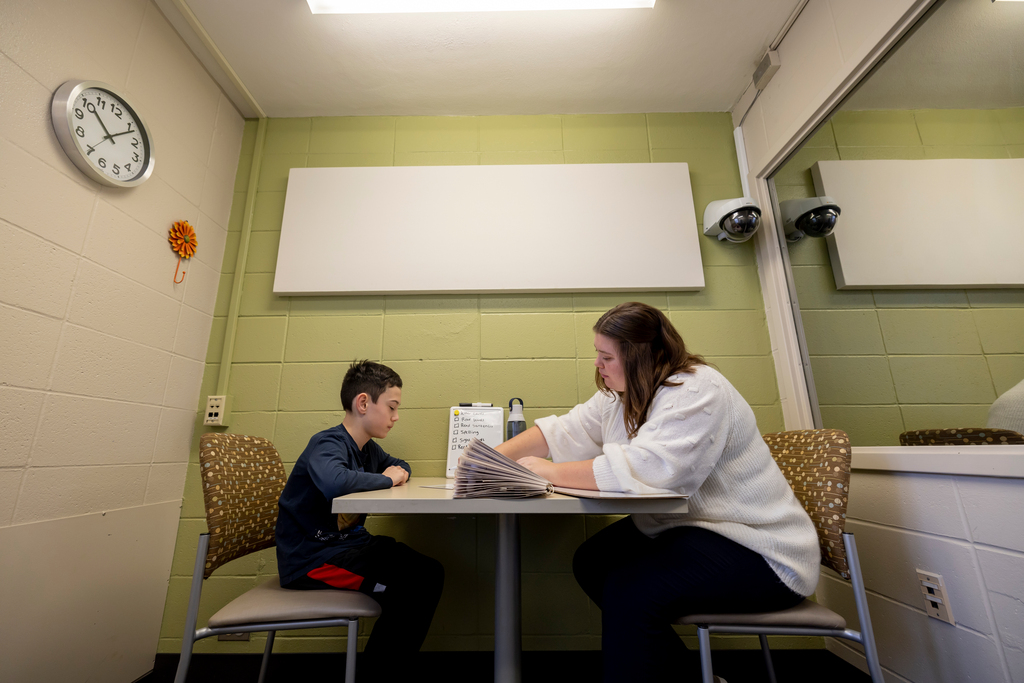 Since the Adams family has been in Missouri, Brent said Ashlee and Daniel "have grown by leaps and bounds."
"Not just in their skills, but also in the way they use and adapt their skill sets into other areas of their lives," he said.
But it's not just Ashlee and Daniel who are growing and learning. Because the PT, OT and Speech clinics at the School of Health Professions are all learning labs, students gain important hands-on experience while serving the community.
The family said the therapy has been so effective in part because of how well everyone "understands how young minds work." The students and staff members know how to use Daniel and Ashlee's interests to their advantage, with each clinic making the process of building skills incredibly engaging and fun.
When the PhysZOU team learned that Ashlee loves movies like "Frozen" and "Encanto," for instance, they designed activities to incorporate characters and plot points from those films. In one session, Ashlee was encouraged to mimic the poses and actions of characters like Isabela, Luisa and Dolores from "Encanto" to complete various exercises.
In TigerOT, the student practitioners working with Daniel learned that he wanted to be able to use a can opener. They recorded a video of themselves using the tool to open a can of peaches, and then they had Daniel follow along while he used the same opener. He practiced manipulating the opener and carefully followed their instructions, gaining confidence and independence along the way.This level of excellence and dedication to helping families use therapy to work through any challenges they might face doesn't stop with Mizzou — it filters into the community. Both Ashlee and Daniel are involved in DanceAbility, a program that gives participants with different abilities a chance to explore dance, and Adapted Gymnastics, a program coordinated through MU Physical Therapy and Tiger Academy of Gymnastics. Ashlee and Daniel's care coordinator through Boone County Family Resources is also looped into everything, ensuring the family has the most up-to-date information and resources.
"The MU faculty and administrators not only meet our children's unique needs, but they also see us as a family," Teri said. "They truly care about our well-being. They have gone above and beyond their job description, spending time checking in with me — especially during recent medical updates and moving to Columbia. We really feel cared for and understood."