News & Announcements
---
Aug. 25, 2022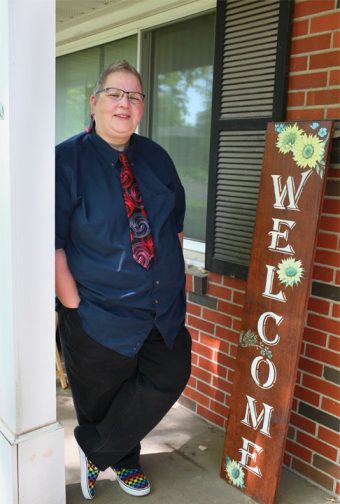 Becky Beck didn't set out to become a social worker. Her original plan was to become a teacher. In her final semester in the MU College of Education, special education Professor Tim Lewis recognized Beck's passion for social justice and desire to be a sower of hope for those in need of advocacy and support.
After she graduated with her master's from the MU School of Social Work, Beck, BS Ed '99, MSW '01, helped launch the Center Project in 2003, a nonprofit resource center for the lesbian, gay, bisexual, transgender, queer and ally community in mid-Missouri. She was board president when it opened the doors to its first brick-and-mortar gathering place in Columbia in 2009. "I still have a piece of the ribbon," she says.
Beck has also been working with DeafLead since 2001, providing crisis intervention and victim services to the deaf and hard-of-hearing community. One of the state's few master's-level social workers fluent in American Sign Language, Beck is the nonprofit's director of clinical services, offering counseling, advocacy and education to victims of crimes, particularly domestic violence and sexual assault.
"I'm passionate about providing hope and rays of sunlight to people who are in the depths of despair and violent situations," Beck says. "For people who have experienced abuse, sometimes the best revenge is to be well."