News & Announcements
Speech, Language & Hearing Sciences alumna crowned Miss Pennsylvania
---
July 7, 2021
July 7, 2021
While many students change their career aspirations several times throughout high school and college, Meghan Sinisi, who graduated in May 2021 with an MHS in Speech, Language & Hearing Sciences, always knew she wanted to work to benefit the autism community. Now that she's been crowned Miss Pennsylvania, she'll advocate for people with autism in a more informed way after completing the Speech-Pathology program in the Mizzou School of Health Professions.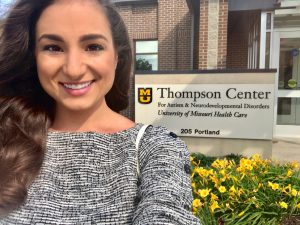 Sinisi first heard about Mizzou from her undergraduate college mentor, who relocated to Columbia and knew that Mizzou had the Thompson Center for Autism & Neurodevelopmental Disorders, a multi-faceted clinic that administers services and conducts research.
"I fell in love with the Speech, Language and Hearing Sciences program and could really see myself there," Sinisi said. "The faculty, the welcoming atmosphere, and the access to the Thompson Center were all very attractive to me."
Fast forward to May 2021. Sinisi successfully graduated and headed back to her home state to compete for the title of Miss Pennsylvania through the Miss America Organization. Part of the competition requires candidates to choose a social impact initiative that they are passionate about. Candidates create specific plans regarding how they would make a difference in that area in their home state, if they were to win the title.
Autism acceptance was Sinisi's chosen platform. Now that she's won, she can use the knowledge she gained in the speech-pathology program to further shape these plans and put them into action.
"One of the greatest things I've learned through my program is how to work in an interdisciplinary fashion with other professions," Sinisi said. "Learning about the other services that families with autism might need helps us all be better clinicians. For my role as Miss Pennsylvania, it showed me how we can collaborate to make a difference for the autism community."
Sinisi cites her time at the Thompson Center as the experience that helped her understand what it's like to have a child with autism, and how to help families integrate therapy techniques into their everyday lives to supplement services their child receives outside the home. She also learned the importance of access to care for rural families, a need she plans to advocate for in Pennsylvania.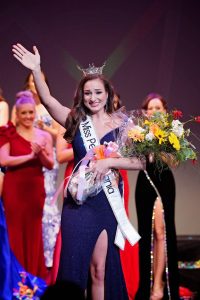 Throughout the next year, Sinisi will put this knowledge to work through her nonprofit, From a New Perspective, which aims to implement these action items, connect families with resources in their community and amplify the voices of people with autism.
"Many times their perspective isn't heard," Sinisi said, "Especially if they are nonspeaking, their doctor or parent might speak for them, and people misunderstand and think they don't have anything to say, but the way they communicate is just different. I want to make sure people with autism have their voices heard so their needs can be met."
Even though she'll be doing this work on the East Coast, her time at Mizzou won't ever be far from her mind.
"I grew the most as a professional during my time there," Sinisi said. "The Speech, Language and Hearing Sciences program gave me such a broad experience that touched so many areas and settings across the lifespan, and it really opened my eyes to other areas that I can advocate for."