News & Announcements
Health Science student wins Public Health Education and Health Promotion student award
---
Jan. 9, 2023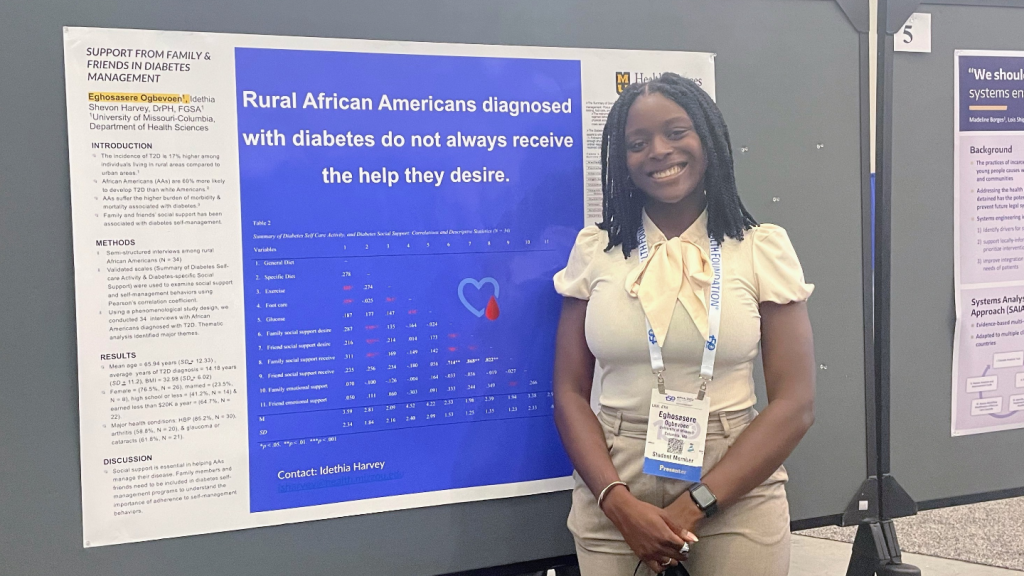 Eghosasere Ogbevoen, a Health Sciences junior and Discovery Fellow, won a student award for her research abstract from the American Public Health Association for Public Health Education and Health Promotion. She presented the findings of the study at the association's student awards in Boston in November. She also received a plaque and a $100 stipend award.
As a Discovery Fellow, Ogbevoen has a faculty mentor to help her work on research in the field of her choice as an undergraduate. She has been in the program since her first semester and has worked with different mentors. Last semester, her mentor was Health Sciences associate professor Idethia Shevon Harvey, who has an extensive research background and is currently focusing on the experiences of people who have type-2 diabetes and live in rural areas, especially regarding their social behaviors and stress management.
"I love working with Dr. Harvey; I love her personality and her as a mentor," Ogbevoen said. "She is super intelligent and that inspires me to be great too."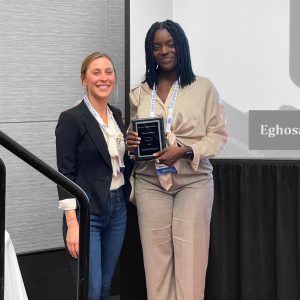 Dr. Harvey's project is the third Ogbevoen has had the opportunity to work on, and Dr. Harvey was the one who encouraged Ogbevoen to submit an abstract to the association.
"When Dr. Harvey told me I should submit my abstract for the student awards, I was shook," Ogbevoen said. "I've never done anything like this before or published anything I've written. I was scared I wasn't qualified, but then we heard back that my abstract had been accepted and I could present my work in Boston."
"Eghosa impressed me during the data analysis phase for the pilot study," Dr. Harvey said. "She began to ask questions based on the findings. I was so impressed with her critical thinking skills; I encouraged her to learn new analytics skills to investigate the outcomes."
Ogbevoen's work with Dr. Harvey included working on changing and editing code on spatial decision support system software (SDSS), which collects data from interviews and surveys. When she submitted her abstract, she wrote about their conclusion that friends and family can have positive health effects on African Americans with type-2 diabetes who live in the rural southern region of the United States and their self-management behavior. These positive self-management behaviors include adhering to glucose medication schedules and nutritional eating behaviors.
To reach this conclusion, they used SDSS software to survey rural African Americans with diabetes to figure out how often people were engaging in healthy behaviors and how much friends and family members can help increase the frequency of these positive self-management behaviors.
"I'm not sure what I'd like to do after graduation, but I know for now, I'm excited about research and research opportunities," Ogbevoen said. "I have such a hectic school schedule and I'm involved in student government, but I do really enjoy learning about public health and conducting research on it. I would definitely consider submitting more abstracts for my future research if I get the opportunity."
Featured in this post