News & Announcements
International student receives awards for COVID-19 research
---
Sept. 15, 2021
By Shanley Silvey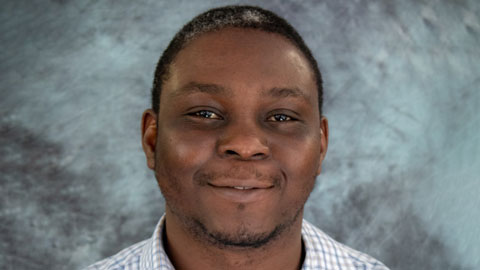 Congratulations to Ifeolu David, a PhD student in Health and Rehabilitation Sciences, for receiving the Mary Elizabeth Guntermuth Award for Community Engagement and Graduate Professional Council (GPC) Excellence in Research Award this spring.
Enid Schatz, professor and chair of the Department of Public Health, nominated David for the Guntermuth Award. David, who completed his MPH at Mizzou in 2019, assisted Dr. Schatz with a campuswide study to assess the prevalence of COVID-19 on campus in Fall 2020. This large-scale study aimed to collect blood from up to 300 people a week, throughout the fall semester, as well as survey data from individuals.
"This is the type of project that usually takes months to plan and has a large staff to make happen," Dr. Schatz wrote. "I could not have successfully pulled off a research project of this size and complexity in such a short time frame without Ifeolu David's support and dedication."
The GPC Excellence in Research award honors graduate students who show commitment to research and to the advancement of their field.
David is entering his third year in the PhD program and continues to research COVID-19 as it relates to campus safety. In addition to working with Dr. Schatz, he is helping Mark Daniels, associate professor of microbiology and immunology for the School of Medicine, with Redcap database management for a COVID-19 immunity study.
Read about David's experience as a physician fighting Ebola in Sierra Leone.
Featured in this post