News & Announcements
'It takes a village': Ifeolu David reflects on academic journey at Mizzou
---
May 10, 2023
Story by Ryan Gauthier
When Ifeolu David walks across the stage at Mizzou Arena on Saturday, May 13, it will be the culmination of more than a decade of incredible work.
As a child growing up in Sierra Leone, David knew from a young age that he wanted to be a physician.
"We had a civil war, and my communities always struggled with health care," David said. "So that inspired me for a career in health."
After graduating from medical school in 2013, he was practicing medicine when the Ebola outbreak swept through the region. It was a terrifying introduction to the clinical field, he said, as he had to deal with myriad infection prevention and control issues. David eventually took a position with the World Health Organization as part of its surveillance team, which helped him recognize the importance of public health.
"I got to see how much of a difference was made when we had public health activities going on efficiently and effectively," David said. "I always wanted to help contribute to health care, and it was reasonable that with public health I could do a lot more than I could in a clinical role."
He was awarded a Fulbright Foreign Student Award to get his master's degree in public health, which brought him to the University of Missouri in 2017. He completed that degree in 2019, but he couldn't shake the feeling that he "needed more."
David had an interest in research due to his involvement in the Ebola vaccine trial, and he knew a PhD would enable him to do work that truly felt meaningful. As fate would have it, the College of Health Sciences was just rolling out its doctoral program in Health and Rehabilitation Science. He connected with Dr. Enid Schatz, who became his faculty mentor for the program, and settled in for four years of research.
A COVID curveball
When he first started in the PhD program, David's research mainly looked at health disparities — with a focus on social and behavioral determinants of health. His past experiences with infectious disease had him looking at HIV populations in South Africa, but everything changed with the COVID-19 pandemic.
"I realized there was a lot of work to be done in our community here at Mizzou," he said. "Having experienced the Ebola outbreak in Sierra Leone, I saw myself in a good place to contribute."
David worked with faculty in the College of Health Sciences and the School of Medicine on a number of projects related to COVID. He witnessed disparities both worldwide and right here in Missouri, noting the unique experiences international students at Mizzou dealt with amid the pandemic.
His dissertation project ended up focusing on COVID-19 experiences, behaviors, and vaccine intentions among health workers in low-income settings — particularly in Sierra Leone. David found that health care workers who had lived through the Ebola outbreak were shaped by their past experiences with infectious disease; while they were incredibly anxious at the onset of the pandemic, they were also better equipped to navigate the situation.
"Many of the things they had to do to prevent infection, they have been doing it during the Ebola outbreak," he said. "This was very helpful in addressing COVID-19."
David also noted some level of vaccine hesitancy among these workers because of differences between the vaccines available in high-income settings (e.g., Pfizer and Moderna) and those offered in Sierra Leone (e.g., AstraZeneca and Sinopharm). He said this stems from a history of disparities in how health care resources were distributed in low-income settings.
"Some people want to get the vaccine, but they don't want to get the available vaccines," he said. "And then they are classified as hesitant even though they are not."
Rising to the challenge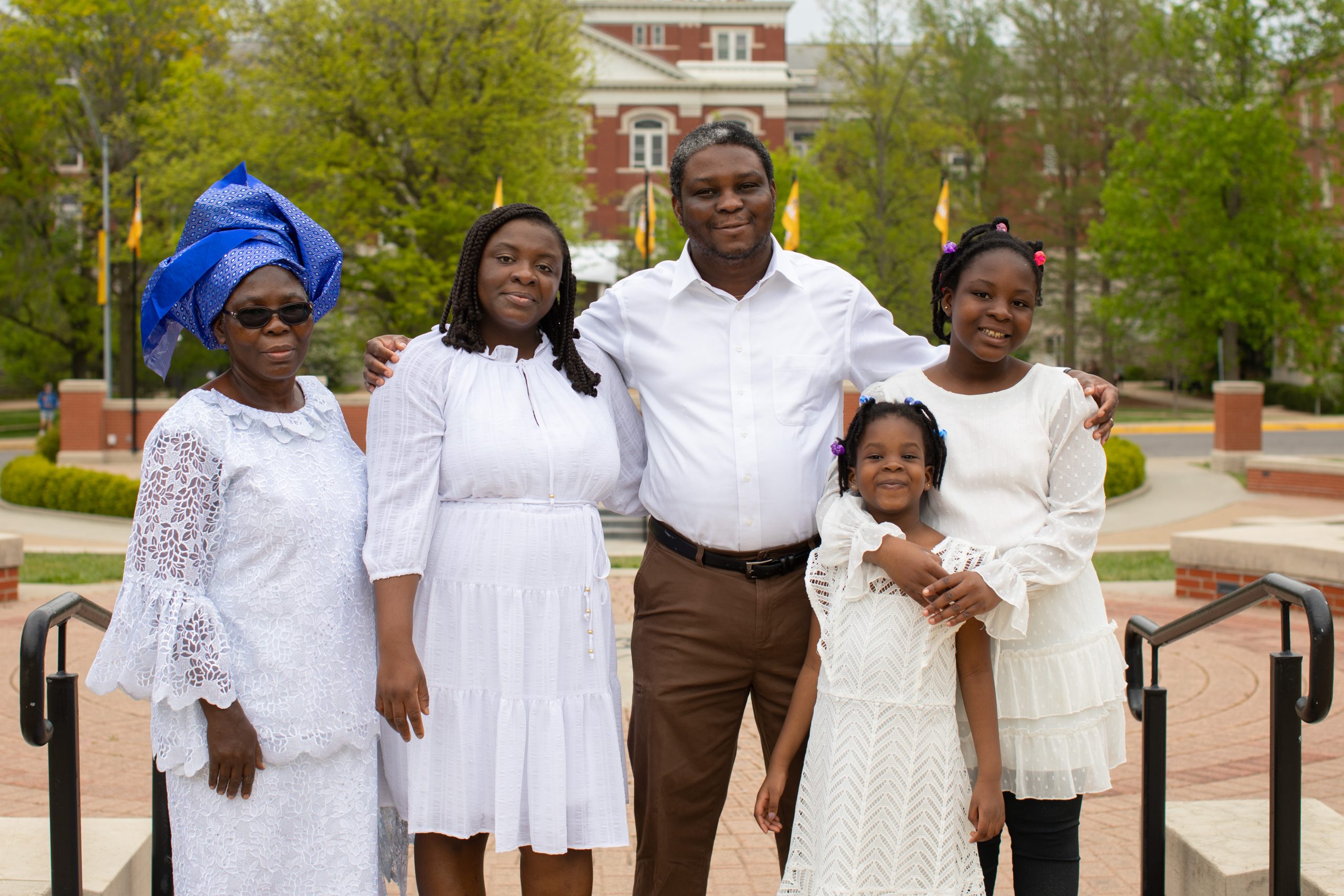 As he prepares to begin the next chapter of his life, David says he's incredibly grateful for his time at Mizzou and the connections he's made along the way.
Being one of the first graduates of the doctoral program in Health and Rehabilitation Science might seem intimidating, but David embraced that challenge.
One of the beauties of the program, David said, is its flexibility and departmental support. Dr. Schatz was there to advise him every step of the way, but various CHS faculty also contributed to his scholarly development.
"In Africa, we say, 'It takes a village to raise a kid,'" he said. "And that's kind of the experience that you get with the College of Health Sciences."
Dr. Wilson Majee, an associate professor of health sciences and public health, has worked closely with David during his time at Mizzou. In his nearly 15 years of community engagement and public health research, Majee said he knows of no other graduate student who has shown as much initiative in seeking opportunities to collaborate in interdisciplinary research.
"Throughout the five years I have known Ifeolu, my impression is that he is an impressive all-around emerging scholar," Majee said. "As an instructor and researcher, I have profound respect for him. The spirit of success that drives him and the value he adds to everything he works on are priceless."
David also conducted quite a bit of research in partnership with Dr. Tyler Myroniuk, an assistant professor in public health, on topics like COVID-19 mortality and HIV in rural South Africa. Myroniuk said David stands out from other graduate students in the number of research publications he has achieved, noting there are plenty of people at other established institutions who "could not even dream of doing what he's accomplished."
"His dissertation project was a huge undertaking," Myroniuk said. "To collect the amount of data that he did for a dissertation, it's just outstanding. His fearlessness around tackling big projects is going to serve him well going forward."
The next stage of David's journey will take him to Ann Arbor, Michigan, where he's accepted a postdoctoral fellowship and assistant professor position with the Department of Epidemiology in the University of Michigan's School of Public Health.
His research will continue to concentrate on public health emergencies, and he notes the challenge moving forward will be how everyone responds to these situations as they emerge. In particular, David is interested in ensuring responses to public health emergencies don't leave vulnerable populations behind.
"We talk about health disparities and vulnerable populations a lot, but we see people left behind over and over again when we have these public health issues," he said. "A big part of these challenges is probably going to be addressing health disparities, and my research will contribute to addressing these issues by bringing out these unspoken realities."

Featured in this post