News & Announcements
Mizzou Made 2023: Bailey R. Baucum, OTD
---
May 2, 2023
With commencement coming up on May 13, we're taking this opportunity to highlight some of the incredible students who make the School of Health Professions such a great place to learn, serve and discover.
Today we meet Bailey R. Baucum, an O'Fallon native who is completing her post-professional Occupational Therapy Doctorate — she's actually the first person to graduate from Mizzou with this degree!

Bailey R. Baucum
Major: Occupational Therapy Doctorate (OTD), post-professional
Hometown: O'Fallon, MO
Favorite Quote:
"I still believe, in spite of everything, that people are truly good at heart."

Anne Frank
What does graduating from the Mizzou School of Health Professions mean to you?
It has been an absolute pleasure to pursue all three degrees from Mizzou and both OT degrees from MUOT. It has been so inspirational to be in a group of faculty and student colleagues who care so deeply not only about their professional endeavors but also yours.
What was your favorite class within your degree track?
I thoroughly enjoyed my teaching practicum with Dr. Whitney Henderson. Since I was motivated to earn my ppOTD to enter academia eventually, it was interesting to learn more about curriculum development and course design. I also thoroughly enjoyed my professional development course with Dr. Tiffany Bolton, which allowed me to embrace the importance of work-life balance and its impact on professional development.
What activities have you been involved in along the way?
Throughout my completion of the ppOTD, I participated in program development for Level II fieldwork education in acute care and was an adjunct instructor for the entry-level OTD program within its Clinical Reasoning and Documentation, Case-Based Learning courses, and clinic experiences. I presented at the Ellis Fischel Clinical Cancer Symposium in May of 2022 regarding OT's role within acute care oncology. Following the completion of my capstone research, I presented at AOTA Inspire 2023 regarding my findings on Level II fieldwork education for students in acute care.
Who helped you during your college journey?
Getting through my ppOTD took a village!
Always number one is my parents. Without their encouragement to always give everything I have toward what I am passionate about, I would not have persisted through my post-professional degree.
The faculty at MUOT have been invested in my professional and personal development since 2016, when I began my entry-level OT master's degree. I am forever grateful to Tim Wolf and the professors within the department for the teaching and learning opportunities that they have so strongly advocated for as we work to advance the profession of occupational therapy.
My boyfriend, Matt, has been so supportive of me during some of the heaviest and most stressful semesters of my ppOTD. He has played a huge role in encouraging me to prioritize my goals and keep my sights set on what I am working toward.
What memories stand out from your time at Mizzou?
I enjoyed getting to collaborate with my classmates as we explored the endless opportunities of our passions. They are always so encouraging of ideas, projects, and research.
I enjoyed any opportunity I had to work with students in the entry-level program as an adjunct instructor. Teaching OT students is a huge passion of mine, and I was so glad to have the opportunity to mentor some amazing future OTs.
What are your plans after graduation?
After completing my ppOTD, I plan to push forward in implementing student and fieldwork educator development in acute care — specifically at the hospital I work at. I hope to continue to encourage students to embrace the medical delicacies of acute care and pursue the incredible opportunities to help individuals flourish during very challenging times.
What advice do you have for current and future students?
Push into what you are passionate about and share it with others — that is what the MUOT ppOTD is all about! There are so many people, faculty, and classmates who want to see you succeed, contribute to your exploration, and encourage you to pursue excellence in OT.
Featured in this post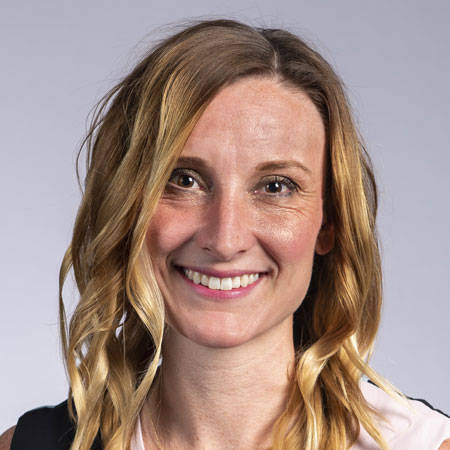 Director of Post Professional Education and Associate Clinical Professor
Associate Clinical Professor
Associate Dean for Research, Occupational Therapy Department Chair and Professor