News & Announcements
New Mizzou Nuclear Medicine clinical rotation offers path to profession's sustainability
---
Feb. 15, 2023
Story by Cheri Ghan. Photos courtesy of Barnes-Jewish Hospital.
When it comes to the number of nuclear medicine technologists working in health care, there's a growing problem. There aren't enough. But the University of Missouri School of Health Professions Nuclear Medicine Program is combating that trend by adding clinical sites to allow more students to enter the program each year. Ensuring the students have excellent and varied clinical rotations provides the experiences that make Mizzou graduates stand out. The ultimate growth in workforce has another positive outcome — improved patient care.
A "perfect storm"
After returning to his alma mater in 2016 to lead Mizzou's Nuclear Medicine program, Director Jeff Galen quickly doubled the number of students accepted from 11 to 22 each year. That increase was followed in 2020 by additional growth to 26 students. He hopes to eventually accept 40 students into the program each year. To accept more students, Galen added clinical sites, and in 2022, he added the largest clinical site to date, Barnes-Jewish Hospital in St. Louis.
Dmitry Beyder, program manager of the Radiology and Transport Program at Barnes-Jewish Hospital, says the shortage of nuclear medicine technologists has been a problem for two to three years. With more patients, new treatment procedures, and fewer students entering nuclear medicine programs, a "perfect storm" that impacts patient care is getting worse. Beyder predicts if the profession can't grow significantly, by 2028 there could be a shortage of 20 to 30 percent of the technologists needed to provide care.
"There aren't enough staff to do diagnostic exams, and that causes delays for tests for those diagnoses," Beyder says. "The delay for patients can even mean a recurrence of cancers or heart ailments we might otherwise be able to treat.
Galen says that since 2007, the U.S. capacity to train nuclear medicine students has been cut in half, so growing existing nuclear medicine programs that already have curriculum and structure in place is the best way to address the shortage.
Learning by doing
Mizzou's nuclear medicine students graduate with a bachelor's degree, spending two years in the professional phase of their program. Their first professional year is mainly spent in classrooms followed by a second professional year where they work directly with patients in hospitals Galen and the nuclear medicine faculty have established 30 clinical location relationships in Missouri, Kansas and Nebraska, with up to eight students now going to Barnes-Jewish Hospital each semester. Because of the hospital's scope of nuclear medicine practice, he calls the Barnes-Jewish experience a unique one.
"They are involved in many clinical trials, have a robust tumor board that students may observe, they utilize St. Louis Children's Hospital for pediatric training, and they have centers of excellence in cardiology, neurology, oncology, transplants, orthopedics and spine treatment," Galen notes. "BJC HealthCare offers our students the opportunity to learn from clinicians who are at the leading edge of our field."
In the classroom, Mizzou students gain theoretical knowledge, such as how equipment works and how different diseases will appear on their scans. In their clinical rotations, they put that knowledge to work in a real-world environment with real patients.
The Barnes-Jewish clinical rotation offers three nuclear medicine department rotations, and students typically work with all 25 professional staff members. Alison Dunn, the clinical instructor at Barnes-Jewish Hospital and its pediatric partner, St. Louis Children's Hospital, says the Mizzou students arrive well trained, professional, and ready for a busy and ever-changing environment.
"They start out conducting the morning quality control with a staff technologist, then jump right into working with patients once the department is open," Dunn says. "If they are in our PET department, they could help prep or scan patients. In PET, we can do as many as 30 patient scans each day."
PET stands for Positron Emission Tomography, a highly sophisticated test not all hospitals can offer. In PET scans, a small amount of radioactive glucose is injected into a vein, and a scanner is used to make detailed, computerized pictures of areas inside the body where the glucose is taken up.
Senior Lauren Block had already completed four clinical placements before starting in the new Barnes- Jewish rotation in December 2022. She says the opportunity to work in the PET department has been an important part of her learning experience, and she now knows that's where she wants to specialize in her career.
"There are so many new radiopharmaceuticals being developed as well as new technology for the scanners used, [PET] is an exciting area for the future of nuclear medicine," Block says. "It is one thing to learn from a book, but when you finally get hands-on experience, everything clicks, and you learn so much faster."
In addition to the PET department, Dunn says the partnership with Barnes-Jewish also offers the students pediatric experience at St. Louis Children's Hospital, something they will value down the road.
"No matter where you work, you will usually end up doing at least a few pediatric cases," Dunn says. "We have state-of-the-art equipment that [students] get to learn how to use and operate. We also do various research scans that students are welcome to be involved in."
Investing in Mizzou students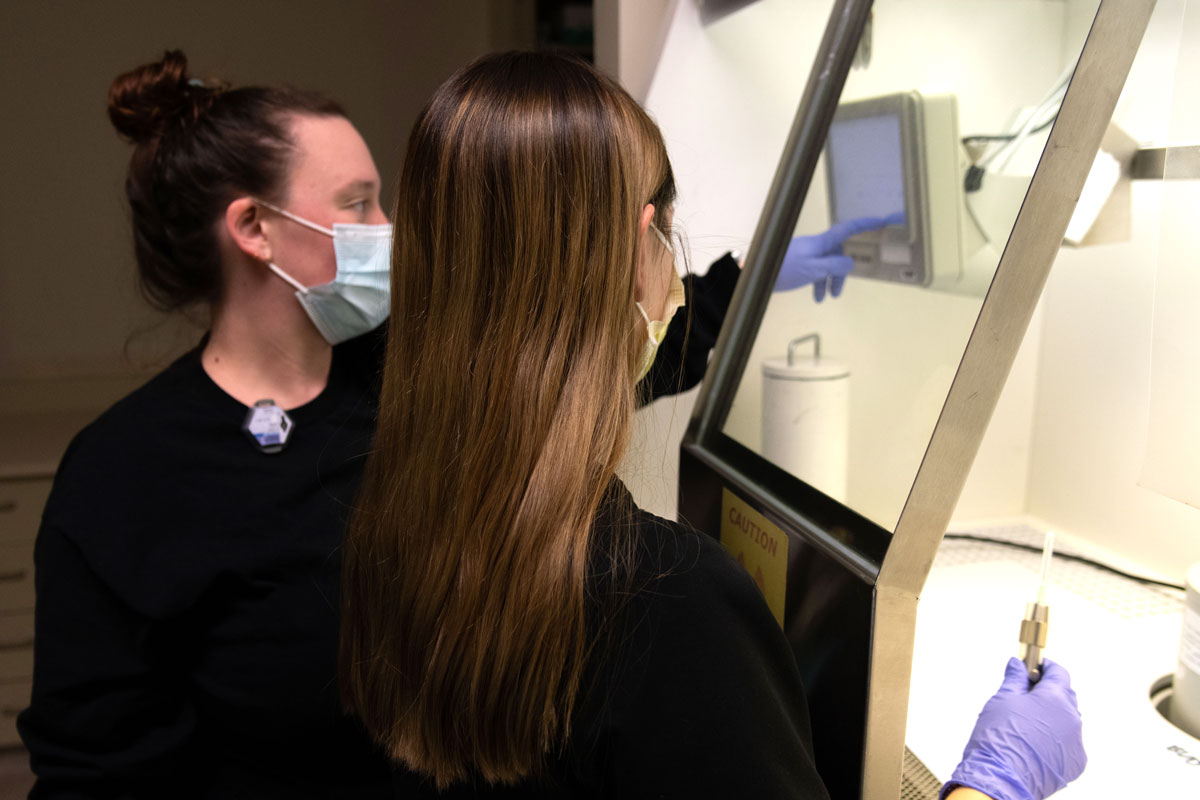 Amanda Eversgerd recently completed her clinical rotation at Barnes-Jewish. She says the staff technologists have added to her education by giving feedback on her scan work as well as offering their own insights and methods developed through their years of work.
"This rotation has really challenged me to think critically and creatively," Eversgerd says. "Being able to figure out solutions to problems as they arise is a skill that I have been able to develop at this rotation, and that really makes me feel as though I am in the right place."
Beyder admits his staff spends a lot of time with each student, but Barnes-Jewish sees this as a worthwhile investment as many Mizzou graduates have been hired there through the years. The opportunity for students to work with these potential professional staff not only enhances the Barnes- Jewish team, but also the profession as a whole.
"The Mizzou graduates we've hired are obviously smart, do well with patients, and they have what I call a 360-degree education," Beyder says. "In their degree, they learn nuclear medicine, but also have classes in other areas of health care and professional work. They are just well-rounded students and that's one reason why we like the MU program."
Dunn adds that the students understand clinical rotations allow them to test a work site and vice versa.
"While the students are here, it is a working interview," Dunn says. "When we have openings, we can think about the students and know who would fit well with our program and other staff."
Improved profession improves care
PET and other theranostics are a growing future direction for nuclear medicine, Beyder says. Theranostics pairs diagnostic biomarkers with therapeutic agents that share a target in diseased cells and tissues. They can be used, for example, to treat tumors of prostate cancer patients. Because the treatment goes directly to a targeted spot, attacking only those specific cells, it is considered a safer and more effective treatment for patients.
This growth in nuclear medicine practice is another reason an expanded workforce is needed, fueling the excitement Beyder has for the Mizzou partnership.
"We need educated, certified people to do this work," Beyder says. "Technology develops quickly and in an effective way. If our students are bright and flexible, we'll be okay."
The students are rewarded with the validation they've chosen the right career.
"About a week ago I had a lady tell me, 'I come here every three months for a scan, and I wish I could have you each time,'" Block says. "That was a moment when I knew I had chosen the right career path and was positively impacting people."
Seeking clinical and non-clinical partners
Hands-on learning is an essential part of a Mizzou student's education. Let us know if your clinic, hospital, or health-related business is interested in training Mizzou students!
Featured in this post