News & Announcements
Remer, Mermelstein receive Social Work centennial impact awards
---
Oct. 26, 2022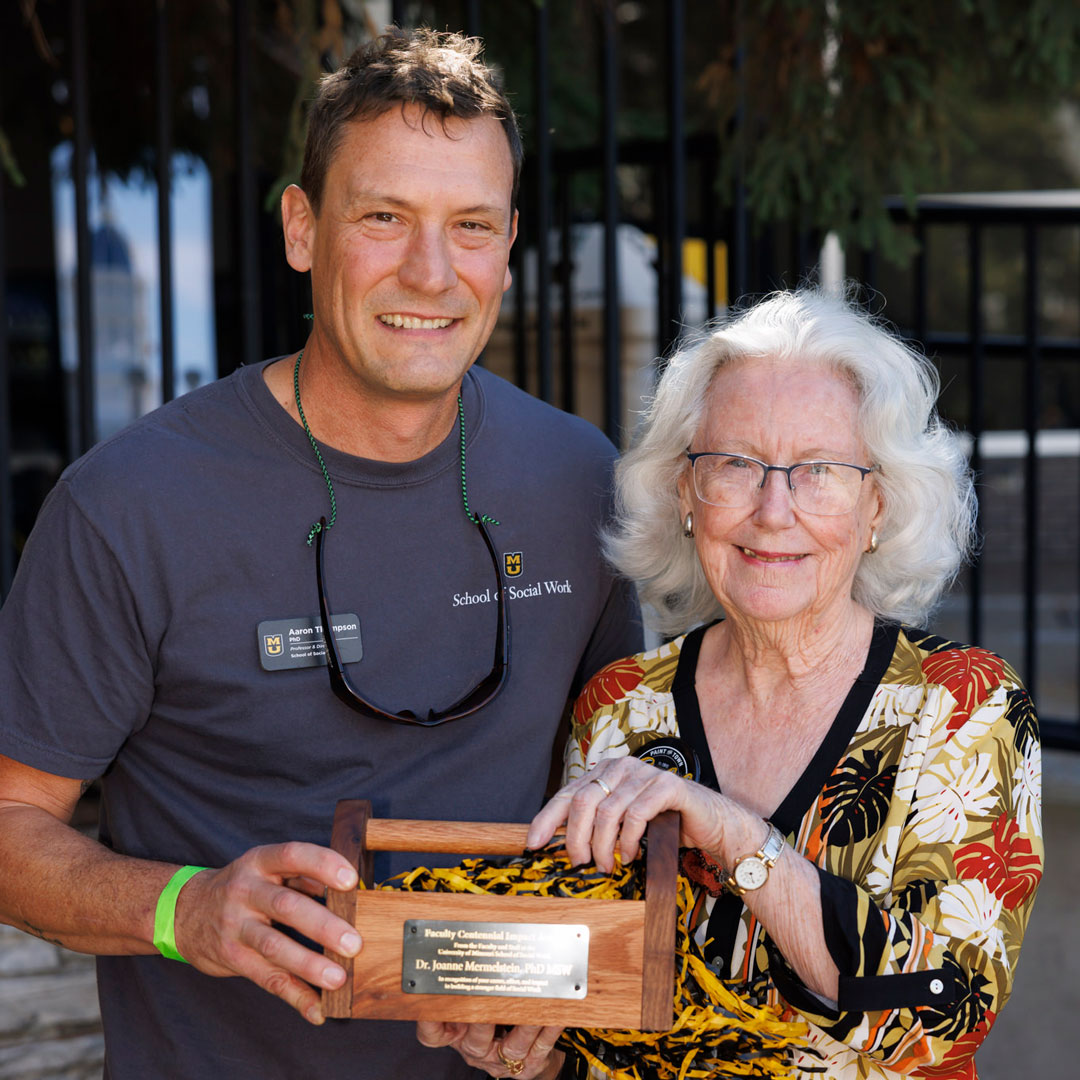 The School of Social Work celebrated 100+ years of social work education at Mizzou with a special Homecoming tailgate Oct. 22. At the event, School of Social Work director Aaron Thompson, recognized two individuals for their significant contributions to the field of social work.
Joanne Mermelstein
Centennial Impact: Faculty Award
Joanne Mermelstein, MS '61, advocated for the MU School of Social Work in several ways as a professor, interim director (1988) and director of the Master of Social Work Program. Dr. Mermelstein was a champion and pioneer in rural social work, helping to develop programs and supports for rural Missouri farmers at the peak of the farm crisis in the 1980s. In collaboration with MU Extension, she traveled all over the state to offer courses and outreach to rural Missouri communities. To make social work education more accessible, she worked with Extension to develop the first off-campus MSW program — a forerunner of the school's now nationally recognized online MSW program.
Stanley Remer
Centennial Impact: Alumni Award
The Department of Veterans Affairs (VA) is the largest employer of master's-level social workers in the United States — and Col. Stan Remer, MSW '68, is a big reason why. He helped start the first U.S. Army Reserve psychiatric detachment, which laid the foundation for a major change in the way the VA used social workers. After 34 years in leadership positions advocating for the role of social work in the VA, Col. Remer retired in 2005. Today, he is a congressional and legislative liaison for the Association of VA Social Workers, representing the now more than 16,000 master's-level social workers in the VA. In 2020, the National Association of Social Workers named Col. Remer a Social Work Pioneer for his achievements. He and his wife recently established the Stanley G. and Sondra S. Remer Scholarship Fund to benefit MU social work students.
Featured in this post