Nuclear Medicine is a branch of medicine specializing in the use of radionuclides for diagnostic and therapeutic purposes. It uses extremely small amounts of radioactively labeled compounds (most often injected into a vein in the arm) in order to produce clinical images used to assess the function and state of health of many of the body's internal organs; in some cases similar compounds may be used to treat some forms of cancer.
Length of study
Pre-professional Phase — 2 years to complete general education requirements of MU and program prerequisites
Professional Phase — 24 months (2 years) to complete the professional phase
Professional certification
Graduates are eligible to sit for board exams through NMTCB and ARRT. More about NMTCB credentialing.
Careers in nuclear medicine
Most nuclear medicine technologists work in hospitals. Some work in physicians' offices, diagnostic laboratories, or imaging clinics. The median annual wage for nuclear medicine technologists was $78,760 in May 2021.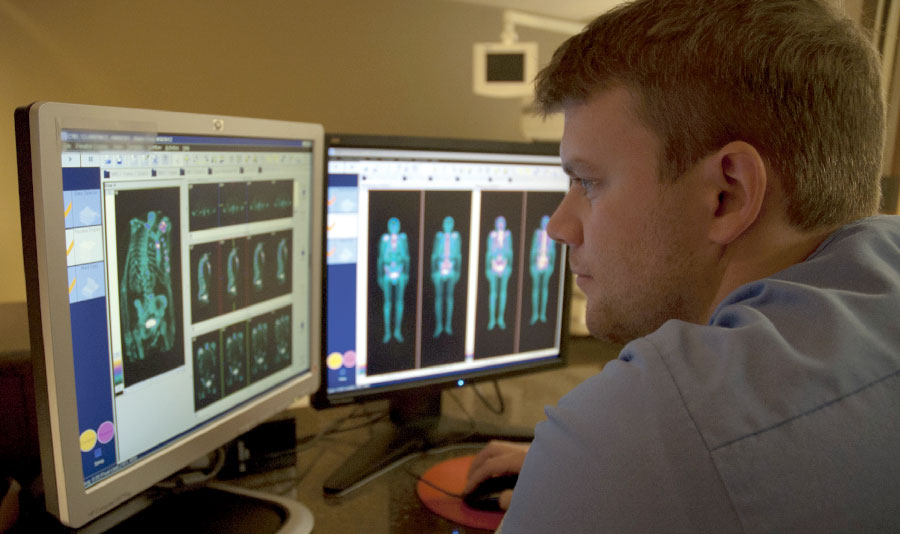 Course work
Students typically begin the Nuclear Medicine program fall semester of their junior year.
Curriculum
Learn about required courses and other program requirements, including a sample semester-by-semester plan of study.
Advising worksheet
Students may use the Nuclear Medicine advising worksheet as a guide, but advising through the School of Health Professions Student Services is highly recommended
Admission
Important dates
Program entrance date — Fall semester (typically junior year)
Application deadline — Dec. 1 of each year
To apply for the program, you must complete the general education requirements, major prerequisites and be a college sophomore in good standing prior to starting the Nuclear Medicine program. Certain requirements may be waived for those applicants with a previous bachelor or associate of arts degree.
Make an appointment with a Health Professions Student Services advisor for additional information on general education and program prerequisites.
High school seniors and first-semester MU freshmen may be eligible to apply for early admission to the Nuclear Medicine program.
Admission and application
Learn more about admissions criteria and how to apply.
Costs and financial aid
Get cost estimates and information about funding your education.
Accreditation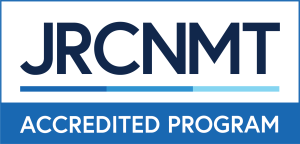 The University of Missouri Nuclear Medicine program is accredited by the Joint Review Committee on Educational Programs in Nuclear Medicine Technology
JRCNMT
820 W. Danforth Rd., #B1
Edmond, OK 73003
(405) 285-0546
mail@jrcnmt.org
Program outcomes and student learning objectives
Certification Boards
Nuclear Medicine Technology Certification Board (NMTCB)
3558 Habersham at Northlake, Building I
Tucker, GA 3008-4009
(404) 315-1739
board@nmtcb.org
American Society of Radiologic Technologists (ASRT)
15000 Central Ave. SE
Albuquerque, NM 87123-3909
(800) 444-2778
memberservices@asrt.org
University of Missouri Institutional Accreditation is provided by
The Higher Learning Commission
30 North LaSalle Street, Suite 2400
Chicago, IL 60602-2504
(800) 621-7440