News & Announcements
Jenna Wintemberg named Health Sciences director of undergraduate studies
---
Aug. 21, 2023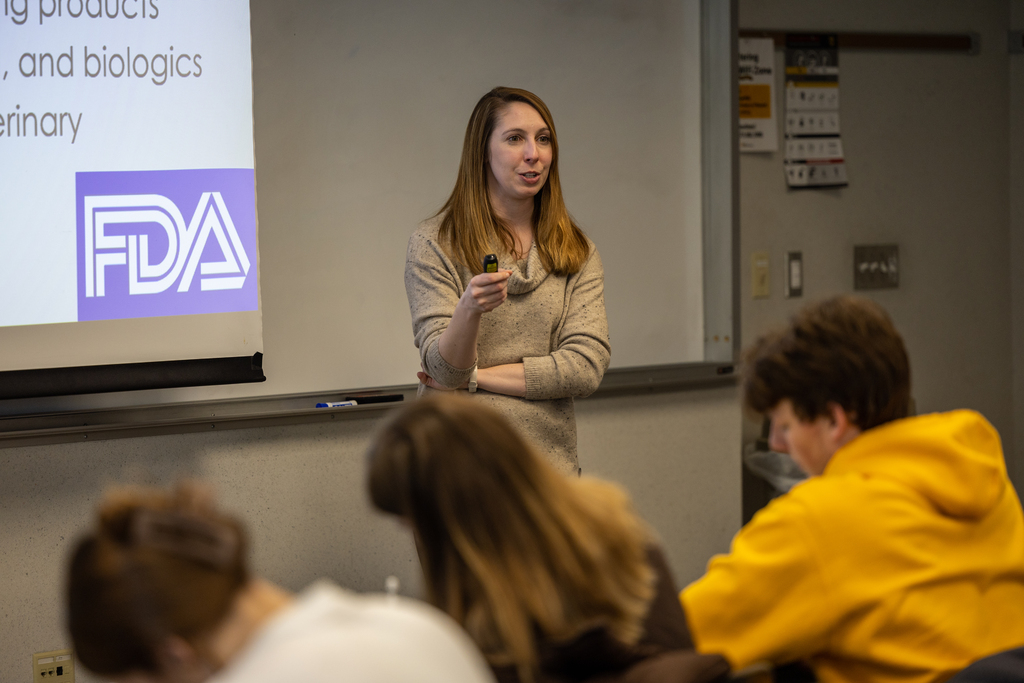 The MU Department of Health Sciences is excited to announce that Jenna Wintemberg, Ph.D., has been named the inaugural director of undergraduate studies. The department is home to about 1,800 undergraduate students studying the most popular major on campus: health science.
Dr. Wintemberg is an associate teaching professor with a joint appointment in DHS and the Department of Public Health. She is an honors college-affiliated faculty member who received her Ph.D., master of public health and bachelor's degree from Mizzou. She is also a Certified Health Education Specialist.
"I'm excited to serve the Department of Health Sciences in a new capacity as the director of undergraduate studies," Dr. Wintemberg said. "My major goal is to support our faculty and staff in delivering the highest-quality learning experiences for our students."
In addition to working closely with faculty members to increase access to best practices and teaching innovations, Dr. Wintemberg intends to collaborate with department leadership to expand course offerings and degree programs to meet the needs of students as well as the health care workforce.
Recently, DHS began offering a Health Science minor as well as expanded honors course offerings. By adding the Master of Health Administration to the department, Dr. Wintemberg said, she looks forward to more course offerings related to health care management.
Since joining MU in 2017, Dr. Wintemberg has received many accolades. These include the MU Provost Outstanding Junior Faculty Teaching Award (2020) and the College of Health Sciences Excellence in Education – Early Career Award (2020).
"Dr. Wintemberg is extraordinarily well positioned for this role given her rapport with students, her collaborative approach to problem-solving, and her deep commitment to excellence in supporting the educational, research, and service missions of DHS and the College of Health Sciences," said Dr. Botswana Toney Blackburn, Health Sciences department chair and teaching professor.
Featured in this post
Director of Undergraduate Studies (Department of Health Sciences) and Associate Teaching Professor
Health Sciences Department Chair and Teaching Professor