News & Announcements
Rooted in community: Occupational therapy team gives back through garden project
---
Nov. 16, 2023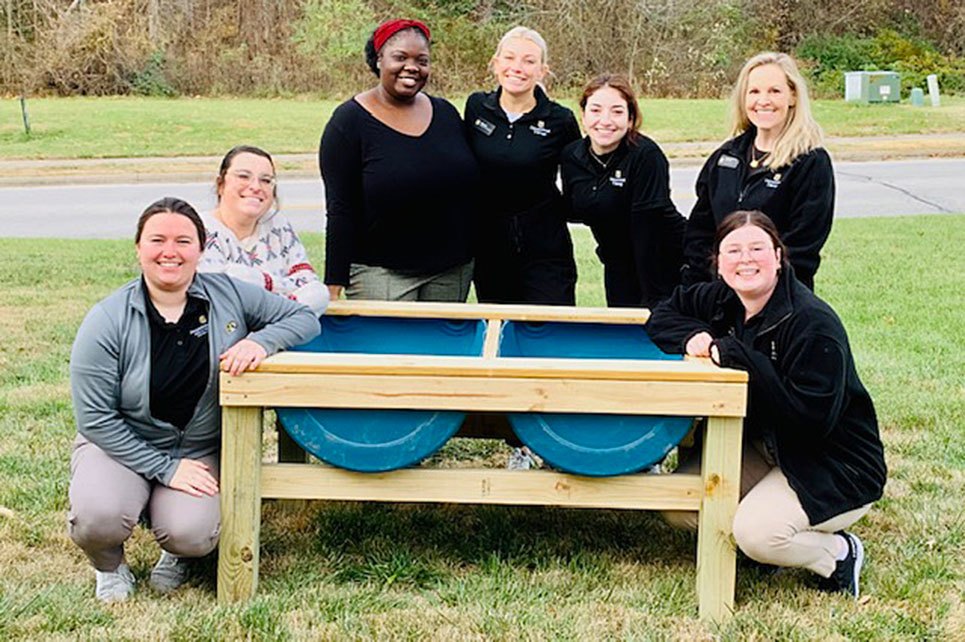 An intraprofessional team of Mizzou Department of Occupational Therapy students and faculty recently completed a collaborative project to create an inclusive garden space with a Jefferson City, Missouri-based organization serving adults with intellectual and developmental disabilities.
The project was executed in partnership with Day Solutions, a day habilitation program that gives adults with disabilities opportunities to learn, grow and develop relationships with peers and their communities. Faculty and students with the Occupational Therapy Doctorate (OTD) and Occupational Therapy Assistant-Baccalaureate (OTA-B) programs created the garden space to provide Day Solutions clients with opportunities to learn gardening, cooking, meal preparation and essential daily living skills for independent living.
Kristi Peterson, an assistant teaching professor with the Department of Occupational Therapy, led the team of OTD students Ally Hull, Madison Flatt, Lacie Martin, Amy Naaman, Mikayla Swank and Meg Weaver as well as OTA-B students Brooke Weinberg and Annie Sabotta as they worked to create the garden space. The project involved working with Day Solutions Executive Director Danielle Schwartz, local businesses and community members.
Peterson highlighted the remarkable collaboration between the Occupational Therapy team and Day Solutions, which provided students with invaluable hands-on learning experiences that will resonate throughout their careers — particularly with community outreach projects.
The partnership with Day Solutions gave students practical insights and equipped them with skills applicable beyond conventional practice settings, Peterson said. The project served as a platform for the students to learn how to advocate effectively for both the OT profession and the well-being of community members.
Peterson expressed gratitude on behalf of the students for the learning opportunity and extended thanks to everyone involved in turning the idea into a reality within a relatively short time frame. She said the success of this initiative underscores the students' commitment to embracing unconventional learning experiences and highlights the positive impact of community collaboration in shaping the future of occupational therapy.
Learn more about the OTA-B and OTD programs at https://healthsciences.missouri.edu/occupational-therapy/.
The OT team extends a special thanks to the following businesses and volunteers from across mid-Missouri who helped make this project a reality.
Nichols Career Center: SkillsUSA program
Lowe's (Jefferson City)
Bradford Research Farm
Tractor Supply Co. (Jefferson City, California and Columbia)
Missouri AgrAbility via Karen Funkenbusch
Strawberry Hill Farms (Columbia)
Home Depot (Columbia)
Rick Cropp and Tom Halford
Just Love Coffee (Columbia)
Kyle, Reygan and Jadyn Whitt
Cecil, Lisa and Anagail Collier
Featured in this post
Assistant Teaching Professor