Lab director
Andrew M. Kiselica, PhD, ABPP-CN
Andrew is an assistant professor of Health Psychology and director of the Clinical Evaluation and Research in Alzheimer's Disease and Related Dementias (ClEaR-ADRD) lab.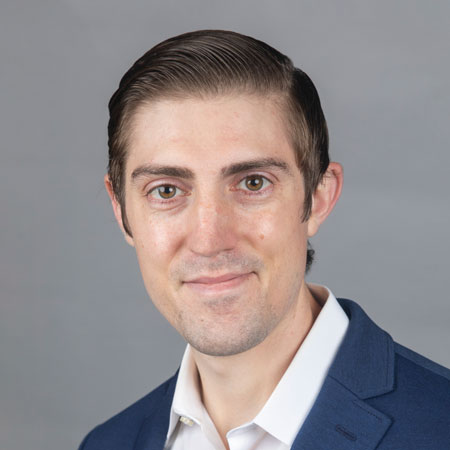 Lab members
Rylea received her B.A. from Luther College in 2022 where she studied Neuroscience and Psychology. She is the coordinator for ClEaR-ADRD lab and directs studies on detection of cognitive impairment and dementia caregiving. In the future, Rylea plans to pursue a PhD in Clinical Psychology with a focus in Clinical Neuropsychology.
Courtney Gann Kocum
Courtney received her B.S. in psychology from the University of Central Arkansas and her M.A. in psychology at Mizzou. She is currently a Psychology Ph.D. Candidate with an emphasis in Cognition and Neuroscience. Her master's thesis used animal models of Alzheimer's, and she currently conducts research on stress and cognitive aging as a graduate research assistant in the ClEaR-ADRD lab.
Nick Ahmed
Nick received his B.S. from Baylor University in 2022 where he studied Psychology. He is now a first-year PhD student in the Psychological Sciences department under the guidance of Dr. David Beversdorf and Dr. Matthew Will. He is also a research assistant in the ClEaR-ADRD and is working on developing a database for older adults patients in the neuropsychology clinic.
Veronica Pozdal
Veronica is a senior at the University of Missouri majoring in Biology and Psychology. She serves as an undergraduate research assistant for the ClEaR-ADRD lab and assists with data collection for a systematic review. In the future, Veronica plans to attend medical school.
Lab description
The mission of the ClEaR-ADRD lab is to conduct research that leads to better assessment and management of cognitive declines associated with neurodegenerative diseases, such as Alzheimer's. The lab members develop tools to improve neuropsychological practice with older adults and collaborate with researchers in Engineering and Neuroradiology to capture digital and biological markers of cognitive aging and neurodegeneration. Furthermore, ClEaR-ADRD lab members lead investigations into how assistive technologies can improve quality of life for people with dementia and their caregivers. The lab welcomes MU undergraduates, recruits PhD students through our Rehabilitation Science program, and works with clinical psychology trainees through the MU Department of Health Psychology's internship and fellowship training programs.
Current and past grant funding
Research in the lab is currently supported by funding from internal awards from the University of Missouri, as well as two grants from the National Institute on Aging. In the past, the lab has been supported by grants from the National Institute on Nursing Research, a National Academy of Neuropsychology Clinical Research Grant, and an Alzheimer's Association Research Fellowship.
Would you like to participate in research?
Caregiver Survey study
We are seeking caregivers to persons with dementia for survey research. The purpose of the study is to learn more about how caregivers to persons with dementia use technology. Participants will complete a 60-minute online survey. Individuals who complete the survey will receive a $20 prepaid Amazon gift card over email. To participate, please email rylea.ranum@health.missouri.edu or call 573-882-7973. Questions about the study can be directed to the lead investigator, Dr. Kiselica, at akiselica@health.missouri.edu.
Everyday Life Experiences study
We are seeking adults ages 60+ who own a smartphone to participate in a research study. Participation would involve one in-person baseline visit, taking about 1.5 hours, where the participant will be asked to answer questions about mental health, stress and thinking. We would also set up an app on their smartphone that will notify them daily for the following 4 weeks to answer brief surveys about daily experiences. Participants will be paid up to $70, although the exact amount depends how many smartphone surveys are filled out. If interested in participating, please email Courtney Kocum: clgfcm@mail.missouri.edu or call 573-882-7973. For questions about the study, please email: akiselica@health.missouri.edu.