The Accent Expansion program is a nationally recognized program focusing on interactive, effective communication techniques with nonnative English speakers to improve their pronunciation and intonation of English. Participants take part in one or two sessions each week as individuals, pairs or in small groups with trained speech-language clinicians from the Department of Speech, Language and Hearing Sciences in the School of Health Professions.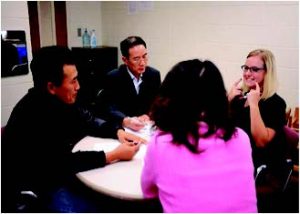 Contact Dana Fritz via email or at 573-884-7538 for more information, schedule and fees. Tuition fee waivers are not applicable for this individualized program. Faculty, students and staff actively follow the University of Missouri's nondiscrimination policy.
Selected publications
Fritz, D.R. 2017. Case 24: Accent Modification in a Thai-Speaking Graduate Student, Casebook in Audiology and Speech-Language Pathology (Branski & Molfenter, eds). Thieme Publishing: New York City, NY.
Fritz, D.R. & Sikorski, L.D. 2013. Efficacy in Accent Modification Services: Quantitative and Qualitative Outcomes for Korean Speakers of American English. ASHA Perspectives, 20, 118-126.