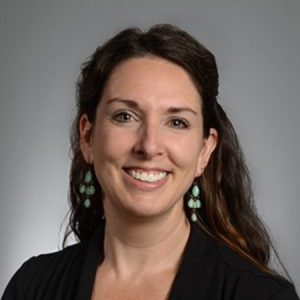 PhD, LCSW
Associate Director of Research and Associate Professor
Research at a glance
Research Topics
Research Summary
Dr. Canada studies interventions to improve health and mental health for adults with mental illnesses who contact the criminal-legal system.
Education
PhD, University of Chicago, 2012
MSW, Columbia University, 2003
BA, DePauw University, 2001
Research interests
Serious Mental Illness; Clinical Social Work; Older Adults; Mental Health Courts; Criminal Justice System and Mental Illness.
Teaching interests
Clinical Social Work Practice; Psychiatric Social Work; Advanced Clinical Practice.
Select publications
Canada, K. E., Huebner, B., Garcia-Hallett, J., Givens, A., Inzana, V., Taylor, E., & Peters, C. (in press). Community-engaged prison-based research in a pandemic: The efficacy of summative content analysis for understanding prison culture and climate. Journal of Crime & Justice
Popejoy, L. L., Vogelsmeier, A. L., Canada, K. E., Kist, S., Miller, S. J., Galambos, C., Alexander, G. L., Crecelius, C., & Rantz, M. (2022). A call to address RN, social work, and APRNs in nursing homes: Solutions from MOQI. Journal of Nursing Care Quality.
Canada, K. E., Easter, D., & Banks, A. (2021). Paving the path for tele-mental health services: Transitions in a student-led behavioral health clinic during COVID-19. Journal of Social Work Education, 57(1), 4-18.
Canada, K. E. (2021). Behavioral health services following release from jail: A widening racial disparity gap. American Journal of Public Health, 111(2), 178-179.
Canada, K. E., Watson, Amy C., & O'Kelley, S. (2020). Utilizing crisis intervention teams (CIT) in prison to improve officer knowledge, stigmatizing attitudes, and perception of response options. Criminal Justice & Behavior, 48(1), 10-31.
Awards
2016 Distinguished Teacher Award, MU College of Human Environmental Sciences.
In the news