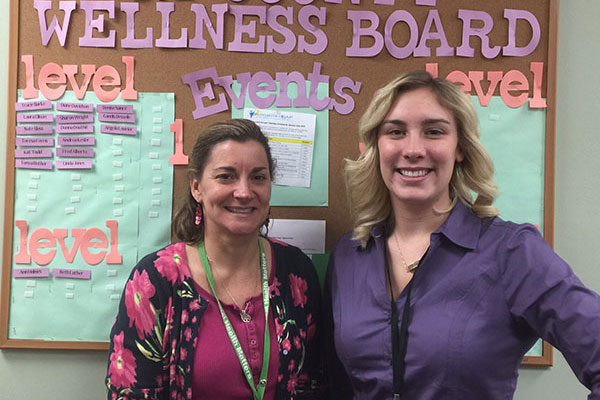 Graduate field practicum
Graduate Field Practicum I is a four-credit hour (16-24 clock hours per week) course taken in the spring semester of the first year of the graduate program. Only regular standing students have to complete Practicum I.
Graduate Field Practicum II is a twelve-credit hour (600 total clock hours, 24-40 hours per week) course taken in the spring semester or summer of the second graduate year. The student's Block placement is reflective of the chosen concentration area. All students, whether regular or advanced, complete this practicum.
Within the graduate program, the specific learning objectives of field instruction are predicated on mastery of generic practice skills developed within the generalist framework. These include behavioral achievement and integration of the following components of skill:
management of the social work process, including data collection, problem assessment, and implementation of phases identified with specific interventions
maintenance of professional relationships as this pertains to significant dynamics in working with clientele; mastery of communication skills in a variety of interventive and organizational contexts
knowledge and skill in the dynamics and use of organizational structure and behavior, both as it relates to the significance of agency policies and as it relates to relations with clients and the community at large.
The content of the individualized learning plan is created through collaboration between the student, the faculty section instructor, and the agency-based field instructor. The learning plan designates specific objective competencies and the learning experiences required to meet them within the context of student interest, concentration, the agency capabilities, and school standards of performance.
Work-life balance
Graduate school can be an exciting time, and a big step toward a rewarding professional career. Often during these times it can be difficult to find balance between academic work, personal life, employment, and other areas of life. To ensure success, students can prepare for challenges and find a comfortable balance between work and personal life that may arise during practicum.
Below are tips and resources that may be beneficial in helping students remain proactive in their work, and avoid becoming overwhelmed or exceedingly stressed.
Be proactive with your schedule. Devising a schedule for assignments and due dates can help to ensure you are staying on top of your course work during this busy time.
Practice regular self-care. As social work students, we talk a lot about self-care, but it is important to really take the time to do something rejuvenating. Some examples of self-care include exercise, reading, meditation or mindfulness practice, and more.
Use any available resource. The School of Social Work works hard to ensure that students have a variety of tools and resources available to them. It is important to familiarize yourself with these tools, and review them thoroughly.
Know when to ask for help. Advisors, faculty, and professors are available for students to reach out. Keeping an open dialogue with professors and advisors helps to stave off unnecessary stress, and build academic support during your studies.
Completing practicum at your place of employment
MSW students may be eligible to use their place of paid employment as the field practicum under certain conditions. A written request must be submitted to the director of field education, who negotiates and directly monitors arrangements.