The Integrative Behavioral Health Clinic (IBHC) is a student-facilitated clinic located at the Family Impact Center (FIC). Our mission is to address disparities in the availability of comprehensive mental health care for people who are uninsured or unable to afford healthcare in order to improve quality of life, reduce distressing symptoms, and increase access.
About us
In response to the documented need for affordable mental health care in Missouri, MU School of Social Work faculty launched the IBHC in 2014. Since then, SSW graduate students and counseling psychology students have gained valuable real-world experience working with clients while under the direct supervision of licensed clinical social workers. These students have, in turn, provided direct care to thousands of clients who otherwise would not have received care. The IBHC collaborates with MedZou, PhysZou and TigerOT, clinics that offer free primary care, physical therapy and occupational therapy for uninsured and underinsured residents of Central Missouri.
Services
Comprehensive needs assessment
Risk assessment screenings
Brief and long-term therapy (e.g., motivational interviewing; cognitive behavioral therapy; cognitive processing therapy; solution focused therapy)
Groups
Case management
An evaluation of services documents a reduction in anxiety and depression and improvements in quality of life for people completing services.
Need help?
If you are seeking services, you can call the clinic at 573-882-9871 and leave a message with your contact information. The Clinic Manager will call you to discuss your request. You can also send email request.
Get involved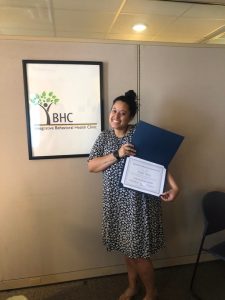 The Integrative Behavioral Health Clinic continues to serve the community at no cost thanks to student interest in doing the work. If we don't have students, we can't operate. If you are interested in learning more about taking the course, doing a practicum placement, volunteering, or doing a project for the clinic, please email Danielle Easter at o.danielle.easter@missouri.edu.
"The IBHC was an unconditionally supportive, welcoming and warm healing environment. I consistently received feedback from my supervisors, which made me feel so supported. I am so thankful for my experience at IBHC and the confidence gained and connections made because of it!"

— Emily Tarby, M Ed (counseling psychology) '20, PLP
Support our efforts
The IBHC is funded through various grants as well as individual donors. While we are fortunate for the funding received, often it is difficult to support new programs, increase student involvement, and to maintain basic operation costs every year. Please consider supporting the IBHC through a monetary gift to the Integrative Behavioral Health Gift Fund that supports the clinic.